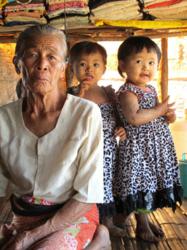 Liquid Gold
New York Times
New York, NY (PRWEB) March 27, 2012
Social entrepreneur, Jeremy Meltzer, has taken his family business and created a unique online platform called 2+U=Change, which turns all customers into philanthropists. Out of six projects, customers can choose where to send Yellingbo's donation, with the option to donate more at final checkout.
Jeremy has just returned from visiting Burmese refugee camps, almost never seen by the outside world. There he photographed and interviewed women, in camps where thousands have languished for 22 years, waiting for a solution to the Burmese dictatorship. Jeremy is also a White Ribbon Ambassador, which calls on men to become the solution to end violence against women.
As a result of these experiences and others, to help empower women and girls globally, Yellingbo has partnered with The Girl Effect (Nike Foundation), Women for Women International, Breakthrough, Finca, Somaly Mam and White Ribbon.
Jeremy is part of a small but growing number of social entrepreneurs, determined to change the business paradigm. The public is beginning to overwhelmingly support these social enterprises. Jeremy was invited to attend Newsweek's Women in the World Summit (March 8-10). He will be in the US, available for interviews, until April 7.
About Yellingbo Gold
'Give10' -- Promo Code offers 10% off until Sunday April 1, at http://www.yellingbo.com
Available online and at Williams Sonoma nationally.
From a small family-run estate in Yellingbo, Australia. Owned and operated by father and son, Howard and Jeremy Meltzer, Yellingbo Gold EVOO is made from the family's hand-picked, cold-pressed olives.
Used by many of Australia's top chefs, including Chef of the Year, Peter Gilmore from 'Quay,' ranked one of the World's Top 50 Restaurants (and where Martha Stewart dined in December).
The first olive oil packaged in 'casks' are great value at chef's wholesale prices online.
A unique Aussie invention, the 100% recyclable cask design offers fresh oil on tap for several months, as it prevents air and light -- the enemies of olive oil -- from entering at any time.