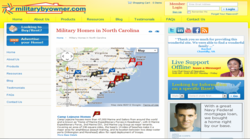 We had a great experience with MilitaryByOwner.com for our PCS to Ft. Belvoir, VA, so we used it again when moving to Ft. Hood, TX
Stafford, VA (PRWEB) March 27, 2012
MilitaryByOwner Advertising, Inc. is a national leader of online real estate advertising of homes for sale or rent to the military community. The company will be an exhibitor at Marine South in Camp Lejeune, NC on April 11-12, 2012. Marine South is one of the eastern United States' largest Marine military equipment expositions attended by commands from Marine Corps Base, Camp Lejeune, Marine Corps Air Station, Cherry Point and Marine Corps Air Station, New River. First held in 1993, this annual exposition showcases equipment and technology systems specifically designed for the U.S. Marine Corps.
"Force readiness means providing our military service members with the best technology and equipment in the field and on the home front. Marine South provides a unique opportunity for us to meet face to face with Marines and military civilians to share information on how MilitaryByOwner.com can assist them during their relocation." explains David Gran, President of MilitaryByOwner Advertising, Inc.. "Last month we attended Marine West at MCB Camp Pendleton, CA and enjoyed the opportunity to hear valuable feedback from our customers, but more importantly to spread the word about MilitaryByOwner to those who have not had the opportunity to utilize our site," continued Gran. "Not only will traditional military exhibitors such as Glock, Inc., Camelback and Leatherman Tool Group be in attendance at Marine South, but other military relocation companies and universities such as PODS and Ashford University will help to show the diversity of needs of Marines and their families," concluded Gran.
David and Sharon Gran founded MilitaryByOwner Advertising, Inc. in 2000. At that time David was active duty in the USMC, he and his family were moving from Germany to the states and recognized a need for assisting relocating military families. MilitaryByOwner Advertising, Inc. has experienced consistent growth each year since 2000. In the past two years, MilitaryByOwner Advertising, Inc. has been included in the prestigious Inc. 5000 list, a compendium of the most entrepreneurial and fastest-growing private companies in America.
MilitaryByOwner strives to provide superior customer service by being available for questions through live chat online, email and daytime office hours. The majority of the staff is either military spouses or dependents who can relate to the joy and stress of a military move. Further information about MilitaryByOwner.com and the services offered can be found at http://www.militarybyowner.com.
For assistance or more information contact us via live chat Monday-Friday 9am-9pm EST, email or office Monday-Friday, 9am-5pm EST at 866.604.9126.