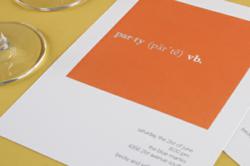 West Kennebunk, ME (PRWEB) March 27, 2012
Ten years after Prentiss Douthit launched his popular line of stationery, invitations and announcements, creating a brand known for its sophisticated style and lighthearted wit, Prentiss Douthit has partnered with William Arthur of West Kennebunk, Maine.
Premiering March 27, a collection of Prentiss' best sellers and all-new designs will be available to William Arthur retailers and online at http://www.williamarthur.com.
William Arthur is delighted to have the lively spirit of Prentiss Douthit and his popular designs under its umbrella of exceptional invitations and announcement offerings. With a warmth uniquely his own, Prentiss Douthit blends old world charm with urbane sophistication in a line of stationery, invitations and announcements that offer lighthearted refinement for any of life's occasions.
About Prentiss Douthit
With his deep Southern roots, Prentiss dovetailed his love for social gatherings with his passion for graphic design to create an innovative line of stationery. The Prentiss Douthit aesthetic blends tasteful refinement with a distinctive charm, approachability and sense of humor. The line enjoys a strong following among enthusiastic customers and retailers, and through high accolades in press such as Vanity Fair, The Wall Street Journal, Town and Country and many others.
Prentiss' diverse interests are translated through his artist's eye, love of people and a genuine sense of fun. An avid gardener and passionate host, his Alabama gardens offer lovely spaces for entertaining, as well as an idyllic playground for the children in his life. His English-style cottage, styled for fashionable parties and casual pot lucks alike, sits on a hill above boxwood gardens and espaliered apple trees, where colorful chickens wander about. Prentiss loves the welcome of a crackling fire while equally appreciating splitting and stacking the firewood himself. Whether digging in the dirt or entertaining in gracious Southern style, Prentiss' joyful appetite for living and unique flair are reflected in an aesthetic that is diverse, rich and never boring.
About William Arthur
For over 60 years, William Arthur has been renowned for creating fine luxury stationery. The company's products are designed and produced in West Kennebunk, Maine, where the beauty of coastal living is enjoyed with easy access to urban centers from Portland to New York. Deeply knowledgeable about high-end printing and the many nuances of fine writing papers, William Arthur's staff artists and craftspeople are passionate about quality, as well as both old-world and state-of-the-art printing methods. At William Arthur, employees are dedicated to making the company a wonderful place to work, and to ensuring that each and every customer is delighted by their exquisite products and extraordinary customer service. Visit them online at http://www.williamarthur.com.