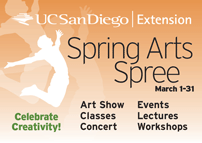 Celebrate Creativity
La Jolla, CA (PRWEB) March 22, 2012
Join UC San Diego Extension, Saturday, March 31, 11:30-2:00 p.m., for a fun, free event. This diverse and delightful afternoon includes culturally-focused, hands-on activities such as Arabic calligraphy, Japanese origami, demonstrations of Qi Gong, Karate and Capoeira, performances of international folk music and dance performances from the UCSD Chinese Dance Association. Additional performances to be announced.
Attendees can meet instructors from each of the Language programs and enjoy some tasty food from top-rated San Diego food trucks including Asian Persuasion, Mangia! Mangia!, Delicioso and Sweet Treats. Parking is free on Saturdays and there is a parking lot adjacent to the event. The event will be held at 9600 North Torrey Pines Road in Lot 303, next to the Extension Campus. A map can be found at http://extension.ucsd.edu/maps.
Spring Arts Spree is a month-long opportunity to explore your creative side—play an instrument, learn a language, attend a lecture, develop your design skills, engage in great conversation about your favorite book, or write your way to a new career.