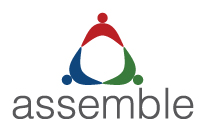 The team at Adhere Creative is really knowledgeable about what will make your website stand out.
Houston, TX (PRWEB) March 22, 2012
Assemble Systems is a building information modeling (BIM) solutions provider for the design and construction industry. Their team of experienced technology and industry professionals works with experts in the fields of architecture, engineering and construction to achieve greater interoperability among design and construction systems.
Assemble has developed BIM software solutions for a variety of applications including project collaboration and coordination, cost analysis, and managing of consultants. User-friendly programs allow design and construction professionals to publish and import information, produce quantity takeoffs, compare design models and coordinate data quickly and easily.
Utilizing revolutionary technology and a team of highly-skilled industry experts, this emerging company aims to be at the forefront of the BIM field. Anticipating rapid growth and greater visibility in the next few months, the Assemble team wanted to create a brand that would help the company achieve its goals both now and into the future. They partnered with Houston web design and marketing agency Adhere Creative to make it happen.
Adhere Creative developed a full brand package for Assemble that included company naming, logo/identity design, stationary design, social media profile design and a new website. Using its expertise in inbound marketing and brand development, Adhere created a clean, streamlined web experience that will enhance Assemble's marketability. The addition of a company blog will offer insight into topics of interest to the design and construction industry.
Leadership at Assemble feels that the new branding effort will help establish them as experts in the field of BIM. "The team at Adhere Creative is really knowledgeable about what will make your website stand out," said Julie Oldbury, Marketing Manager for Assemble Systems. "I enjoyed working with the designers to find a balanced and effective solution to increase our company's presence and optimize our social media marketing."
Clint Pargmann, President of Assemble Systems, is also pleased with the solution. "I am proud of the website. It looks good, shows who we are as a company, and helps our message get through to potential customers."
Jon Feagain, Art Director at Adhere Creative, agrees that the new brand identity will give Assemble the look it needs to succeed. "Working with an innovative technology company gave us the opportunity to exercise our creativity and develop a powerful brand identity system. The Assemble team has produced a revolutionary product and we expect their new identity to help them evolve their industry."
About Assemble Systems:
Assemble Systems is a building information modeling solutions provider. Assemble delivers a solution to increase the speed and accuracy of the Building Information Modeling (BIM) design and construction process by hosting and moving information between incompatible BIM applications. Based in Houston, TX, the Assemble Systems team includes technology experts and experienced architecture, engineering, and construction industry professionals who are addressing BIM interoperability for design, construction and operation. Visit http://www.assemblesystems.com for more information.
About Adhere Creative:
Adhere Creative, a Houston web design, branding, and inbound marketing agency, specializes in results-driven marketing initiatives for the Houston business community.