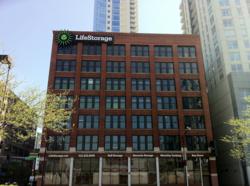 What LifeStorage wanted, and what we've accomplished, is taking an existing property and turning it into something so much better
Chicago, IL (PRWEB) March 28, 2012
LifeStorage, Chicago self storage provider for home and business, records management and office solutions, is excited to announce May 15th as the official opening date of its newest facility in the River North neighborhood of Chicago. Cobalt Commercial Construction handled the refurbishing of the seven-story, classic-loft location, which is currently accepting storage reservations through the LifeStorage website, or by calling 312-222-0055. The opening increases LifeStorage's Chicagoland presence and raises its facility total to 18 between the suburbs and the city proper. Located at 333 Ohio Street, LifeStorage-River North becomes the most visible location in an already robust family of storage facilities.
Construction Manager Steve Osborne, who's handled the bulk of the construction effort, helped take what was a building used for office space at one point and re-purposed it into one of the most upscale, luxurious self-storage facilities in the city. "What LifeStorage wanted, and what we've accomplished, is taking an existing property and turning it into something so much better. It's a gorgeous building, and in my experience, when I see storage facilities, this completely breaks the mold. There's a coffee bar that serves Starbucks, a fireplace...it's more akin to a four-star hotel," Osborne said.
On top of all the excitement of a new opening and the elaborate aspects of the facility, behind it all is still LifeStorage's great brand of self-storage solutions and office suites. Iwona Lach, Marketing Coordinator for LifeStorage, sees the visibility of the new location as a opportunity to gain an even wider audience of Chicago self storage customers, and a way to continue proving that LifeStorage is Chicago's best self-storage provider.
"With the opening fast approaching, we have units for rent right now. This is the perfect opportunity to get the best spots and unit sizes in the facility that best fit your needs. It's also a great opportunity for the local community to start their spring cleaning and move their seasonal belongings into one of our climate-controlled, secure units. With the warm weather already here, choosing LifeStorage can save you space and money, and give you the piece of mind that comes with our brand," Lach said. "Of all the chains in the area, we definitely feel we provide more…more solutions, more amenities, and the best customer service. LifeStorage aims to be the best and we feel we're already atop the industry in this great city."