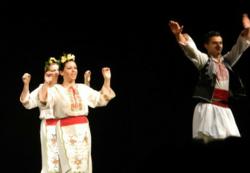 He who sings doesn't mean any harm. (Because who sings can't have bad thoughts in his mind.)
Chicago, IL (PRWEB) March 23, 2012
For the second year in a roll, Chicago will become the meeting place of all connoisseurs and lovers of Bulgarian folk music and dance. The second Bulgarian VEREA Dance Festival 2012 will take place on March 31, organized by the Bulgarian Folk Club "Verea". The festival is unique in that it is solely devoted to the Bulgarian folklore – it is for the first time that an event of this scale is put together on U.S. territory to promote Bulgarian folklore.
The festival first took place on April 9, 2011, and five ensembles participated in Chicago alone featuring more than 100 dancers. Last year's folk fest was more of a demonstration of the folk dance called "horo" - a kind of chain folk dance of various complex rhythms and steps.
The second edition of the folk dance festival will be radically different - it will be performed on a stage and the featured dances will have a special choreography with a professional touch. The Chicago ensembles will perform for 10 minutes each, while the guest ensembles will be allotted 15 minute presentations. The entire festival will run for about two and a half hours.
Currently nine ensembles have registered in the U.S. and Canada to take part in the Second Bulgarian Dance Festival 2012 VEREA. There will be more than 150 dancers and musicians on stage; moreover, the organizers have stated that more than 200 guests from all over the U.S. and Canada will be joining the folk fun.
Here are the participants of the festival:
1. Bulgarian folk club "Verea" (Chicago), headed by Konstantin Marinov. The club was founded in 2010 to preserve and spread Bulgarian folkloric traditions within the United States. The members' intentions extend from educating the public to creating a unique social and cultural plateau, on which all lovers of Bulgarian culture will be brought together to share traditions. The ensemble is comprised solely of young performers and the club itself currently has more than 70 members.
2. Bulgarian folk dance ensemble "Horo" is founded in Chicago in 2003 by Todor and Irina Gochev, who continue to be its artistic directors till this moment. At present the ensemble numbers some 40 people - men, women and teenagers who are united by their shared love of Bulgarian folk dance.
3. Folklore dance group "Bulgarians" was founded in 2002 in Montreal, Canada. Currently the group has 17 members. The group's leader Tzonko Stoyanov graduated from the Academy of Music and Dance Art.
4. "Friends of Bulgarian Dance" (Detroit, MI) – Nikolai Alichev, the head of this ensemble, graduates choreography in 1985. His career continues as head of the ensembles performing at the National Army Club and Union House in Karlovo.
5. "Nashencheta" - Created by Julian Jordanov in the fall of 2002, Ensemble "Nashencheta" has performed Bulgarian folk dance at various festivals and folk nights in and around Chicago. Christina Barganska has served as artistic director for this dance formation since fall of 2010.
6. Ensemble "Antika" (San Francisco, CA) - The head of this formation, Tanya Kostova, graduated from the Academy of Music and Dance Art in Plovdiv in 1979. She carries a master's degree in Choreography, Stage Directing and Art Education.
7. Ensemble "Bulgarian Spirit" (Saint Louis, MO) - The head of the ensemble, Stefan Todev, has graduated choreography in 1992. He has danced for Ensemble "Sunny Beach" and has headed a children's art school in the town of Nessebar.
8. Ensemble "Dimitrovche" (Toronto, Canada) - Bulgarian Folk Ensemble "Dimitrovche" at the Bulgarian Eastern Orthodox Church "St. Dimitar" in Toronto was founded on October 26, 2010. Its main purpose is to preserve and spread Bulgarian music and folk dance, thus creating an environment of goodwill and fun among the Bulgarians in Toronto.
9. Ensemble "Ethnic Dance" (Chicago) led by Paul Collins - Paul Collins has been dancing since the age of 8. He has been professionally involved in ethnic folk dance since the mid 1960s. In 1989 he founds "Mid-North Folk Dance Club", which grows into the current "Ethnic Dance" Ensemble in Chicago.
As you can see, the second Bulgarian Verea Dance Festival 2012 will serve as a meeting place for prominent dancers and musicians. Participants will travel hundreds of miles to present the unrivaled beauty of folklore to the Bulgarian audience in Chicago and participate in the largest and most unique folklore festival in the USA.
The event will be held on March 31, Saturday at 6:30 pm at Taft High School at 6530 W. Bryn Mawr Ave, Chicago, IL, 60631.