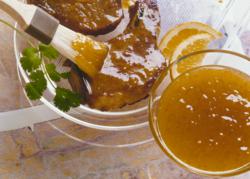 San Antonio, TX (PRWEB) March 23, 2012
TIC Gums will demonstrate a sugar free glaze with a texture profile that closely matches that of a fully sugar sweetened version for the attendees at the Restaurant Chefs Association Annual Conference and Culinary Expo to sample on Friday March 23, 2012. TIC Gums will be in booth 214P inside the Henry B. Gonzalez Exposition Center in downtown San Antonio, TX.
Removing sugar from syrups, beverages, sauces and glazes takes out more than calories. Along with the sweetness of sugar, viscosity, thickness and mouthfeel of dissolved sugar also come out. The sweetness of these can be replaced with artificial sweeteners but they will not replace the texture. Gums and gum systems can be used deliver the mouth and palate coating that are often lost in sugar free liquids like these.
Southwest Flavored Glaze for Chicken
To demonstrate the concept, representatives from TIC Gums use Ticaloi® Syrup SF1 in a candied poblano syrup served over chili-spiced chicken. Leveraging gums in blends like this mean that the denseness of the fully sweetened glaze will remain but with fewer calories. Texture developments like these will continue to be important for chefs, food scientists and developers as consumers demand healthier fare that also tastes good. Using hydrocolloids like those in the Ticaloid Syrup SF1, chefs can mimic the texture lost when dissolved sugar is removed.
About the RCA Culinology Expo
The Research Chefs Association's Annual Conference & Culinology® Expo is the only R&D conference focused on the fast growing discipline of Culinology® – the blending of culinary arts and food science (http://www.culinology.com/annualconference).
About TIC Gums
TIC Gums is a global leader in advanced texture and stabilization solutions for the food industry. Food and beverage companies rely on TIC Gums to improve the texture, stability, consistency, nutritional profile, and shelf appeal of their products. Legendary customer service, high quality standards, and the unrivaled knowledge of our Gum Gurus® has made TIC Gums the industry leader for more than 100 years.