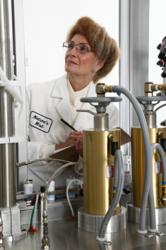 Grants Pass, OR (PRWEB) March 23, 2012
March is "National Save Your Vision Month" and few people are more aware of the need for this American Optometric Association (AOA) supported program than Sharon Kleyne, founder of Bio-Logic Aqua Research, Inc., and host of the Sharon Kleyne Hour Power of Water radio talk show. A longtime eye health advocate, Mrs. Kleyne believes that eye education worldwide is inadequate and that the best way to "Save Your Vision" is to improve your knowledge of eye functioning and vision care.
Mrs. Kleyne supports the AOA's efforts to urge everyone to have regular eye exams.
Improved knowledge of the protective natural tear film that covers the eye's exposed portions, says Sharon Kleyne, is an excellent place to begin your eye care education. Dry eye symptoms have become the number one reason for eye doctor visits in the United States and dry eye discomfort occurs when the eyes' tear film, which is 99% water, loses too much of this vital fluid (Mathers, 2005).
According to Sharon Kleyne, dry eye may be caused by environmental conditions such as dry air, polluted humidity, wind, cold, solar radiation, forced-air heating and cooling, insulated walls and windows, and numerous household chemicals. The condition may also be caused by diminished functioning of the minuscule lipid glands in the eyelids, not drinking enough water (dehydration), an improper diet, and impaired tear gland production. The tear film's thin "lipid" or oil layer helps prevent the underlying "aqueous" (water) layer, from losing moisture to evaporation (Mathers, 2005). Dry eye is becoming extremely common among computer users (AOA, 2012).
Whatever the cause, the result is loss of water from the tear film's aqueous layer. Since the tear film's salt content remains constant and does not evaporate, when water is lost, tear film salt becomes overly concentrated (AOA, 2012). This can throw off the tear film's "osmolarity" (a measure of water attracting ability) and cause the body to transmit anti-inflammatory agents to the eyes. This, in turn, can cause symptoms such as red, itching and or burning eyes, blurred vision, headaches, increased anxiety, etc.(Mathers, 2005).
Sharon Kleyne had long advocated water replacement therapy or "re-hydration" as the easiest and most natural method of restoring lost tear film water to alleviate dry eye symptoms. Mrs. Kleyne and the AOA also offer many other suggestions to make sure that the tear film always remains moist and healthy (See http://www.AOA.org and http://www.NaturesTears.com).
Sharon Kleyne's popular radio talk show, Sharon Kleyne Hour Power of Water, is sponsored by Bio-Logic Aqua Research, whose Nature's Tears® EyeMist® is the only all-natural, all-water eye mist that is patented and specifically configured to soothe dry eye symptoms and supplement natural tear film water. Nature's Tears® EyeMist® is available at http://www.BioLogicAqua.com, Amazon.com, drugstore.com and selected drugstores nationwide. The product is expected to be available worldwide by the end of 2013.
Listen to the Sharon Kleyne Hour Power of Water Mondays, 10 a.m., PST/PDT. The syndicated radio talk show is heard on Voice America/World Talk Radio, Green Talk Network and Apple iTunes. Go to http://www.SharonKleyneHour.com for written summaries and on-demand replays. Also visit http://www.naturestears.com, http://whatistheeye.wordpress.com, "Nature's Tears EyeMist" on Facebook and "Bio-Logic Aqua" on Twitter.
References:
Mathers, WD, MD, Tear Film and Treatment of Dry Eye Disease, Bio-Logic Aqua Research, 2005.
Save Your Vision Month: Healthy Vision at the Computer, American Optometric Association (AOA.org), March 22, 2012.
© 2012 Bio-Logic Aqua Research