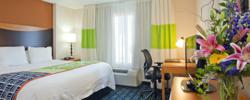 Downtown Indy has an abundance of free cultural activities, and these rates further guarantee an affordable stay.
Indianapolis, IN (PRWEB) March 23, 2012
In mid-April, Marriott Place in Downtown Indianapolis is offering special spring rates, with rooms starting at $119 per night. Downtown Indy has an abundance of free cultural activities, and these rates further guarantee an affordable stay. All three hotels in Marriott Place are participating in this exciting offer.
Special Spring Rates at Marriott Place:

Fairfield Inn & Suites – Rooms as low as $119 per night. T.G.I. Friday's operates out of the Fairfield, making room service available and convenient for all guests.
Courtyard Marriott – Nightly rates begin at $119. Enjoy quiet breakfast or dinner at The Bistro; they serve specialty beverages, including Starbucks coffee, and offer a variety of delicious cocktails.
SpringHill Suites – Rates start at $129 per night for our brand new suites, which are 25% larger than other Indianapolis Convention Center hotel suites.
Going hand-in-hand with these low rates is the variety of free cultural offerings that Downtown Indy offers. Explore the sculptures of White River State Park, just outside Marriott Place. Further your intellectual fix by taking in a concert or show at Indianapolis Artsgarden. Spend some time meandering along the 1.5 miles of Central Canal. It is flanked by historic churches and much of Indy's finest contemporary architecture, including Buggs Temple and the NCAA Headquarters. If you're feeling thirsty, check out Easley Winery, which offers free tours each Saturday and Sunday. Additionally, at Mass Ave Wine Shoppe, free Tuesday Tastings happen weekly. Take a reading break at the Kurt Vonnegut Memorial Library or Central Library before exploring one of Indy's historic downtown neighborhoods on foot.
"We hope these special spring rates will attract visitors and prove that Indianapolis is an affordable city, offering many exciting, free activities," said Nikki Thomas, Director of Sales and Marketing. "Since Marriott Place is in the heart of Downtown Indy, our guests quickly learn that it is the place to be."
About Downtown Indy at Marriott Place
Marriott Place in Downtown Indy is truly the place to be in Indianapolis. Made up of three hotels – Fairfield Inn, SpringHill Suites and Courtyard Marriott – that provide comfortable accommodations and unparalleled convenience, Marriott Place is more than just a place to stay. With six delicious dining outlets available onsite, including T.G.I. Friday's and Osteria Pronto, access to more than 100,000 square feet of meeting space, and a convenient location in the heart of Downtown Indianapolis, there is no better place to stay for leisure or business.