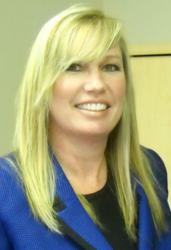 I am very excited to be joining Vesta - a Florida-based management company that has a unique place in our industry, is growing quickly throughout the state, and offers opportunities for successful professional development
Orlando, FL (PRWEB) March 24, 2012
Orlando, Florida Real Estate Agent and Community Association Manager, Cynthia "Cindy" Montsinger, has been hired by Vesta Property Services, Inc. as Regional Manager, based in Vesta's Central Florida office. Cynthia began her career in 2002 as a Real Estate Agent and became a Licensed Community Association Manager in 2007. She became a Senior Community Association Manager in 2010 and is proud to now serve as Regional Manager of Central Florida. She has also achieved the nationally recognized designations from the Community Association Institute of CMCA ® (Certified Manager of Community Associations) and AMS ® (Association Management Specialist).
Cynthia is active in the City of Orlando government and belongs to the City's Public Art Advisory Board. Cynthia has developed a large network of connections on the social networking medium, LinkedIn, and is the founder of the Open Community Association Mentoring (OCAM) Group. She also writes regularly for the Condominium HOA Management Magazine. Cynthia enjoyed a long career in the airlines as international flight attendant and is enjoying her second career.
Cynthia's professional interests include branding, sales and marketing, human resource management and strategic operations management, and she has begun work on a master's degree in business management. "I am very excited to be joining Vesta - a Florida-based management company that has a unique place in our industry, is growing quickly throughout the state, and offers opportunities for successful professional development," said Cynthia.
Vesta provides financing, management and related services to owners of planned unit communities and residential associations in connection with clubhouses, golf courses and other amenity and infrastructure facilities and commercial real estate management. Headquartered in Jacksonville, Fla., Vesta offices are strategically located throughout Florida.
Cynthia is now part of Vesta's team of 800 associates who provide a wide spectrum of services to more than 60,000 Florida residents, tenants, and unit owners. Whether you're looking for management services, development assistance, association services, facilities management, financial services or sales and leasing expertise, Vesta is there for you. Please visit http://www.vestaforyou.com for more details.
Contact: Roy Deary, Vice President, Contract Services
Vesta Property Services Inc.
1021 Oak St., Jacksonville, FL. 32204
Phone: 904.355.1831