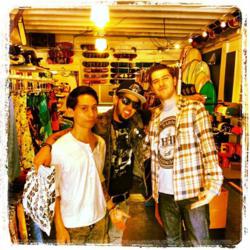 "Tank tops are now an acceptable shirt for guys to wear out. With the hot weather and the vanity to show off the new ink, tanks are an instant hit this summer."
Annapolis, MD (PRWEB) March 24, 2012
Pure Board Shop in Annapolis Maryland can't keep their stock of men's tank tops in the shop.
With the unseasonable early warm weather, tanks are outselling tee shirts and the Pure crew has had to reorder from a number of brands already.
"We knew tanks were going to kill it this season, based on last years numbers, but sales have exceeded all forecasts," some of the guys stated.
Celebrities, musicians, your boyfriend... it seems like everyone is rocking a tank.
The 100% cotton tank is so far the best seller, but a bit of man made materials (Nike SB Dri Fit) is good for the skaters.
Pure Board Shop has seen every which way a tank top can be produced; pockets, cut and sew, 3 button henley style, black mesh 1/2 cut-off (oh wait, that was the '80s) and the flashy mesh/poly mix.
You get the wakeboard dude who wants the logo'd mesh basketball tank every now and then but the basic solid color top, under $20, works best.
Some of the more urban skate brands seemingly missed the boat with minimal offerings for spring but are coming on strong with early summer ship dates.
Pure Board Shop has a perfect mix of styles and colorways in stock from February through October. Solids, stripes, pockets, mesh, clean and logo'd.
Pair 'em with your favorite sandal and a pair of khaki colored shorts, your casual style will fit with any surrounding this spring.
Pure Board Shop:
Tank tops for men offered from RVCA, Diamond, LRG, Vans, The Hundreds and Pure.