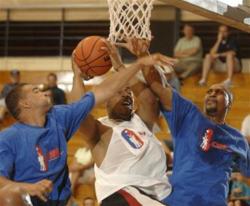 ...They (angel investors) all loved our business model, but wanted to see us in action...
Tempe, AZ (PRWEB) March 23, 2012
The Community Basketball Leagues have really carved success in the world of amateur basketball. Having evolved to become the fastest growing professional basketball business in the United States, the Leagues are looking to expand nationally. However, if they're going to get there, they'll require some help.
With a fundraising goal of $25,000 the CBL could have approached sponsor companies or taken out a loan. However, wanting to utilize the latest in fundraising fashion, they turned to crowdsourcing (also known as crowd funding) to help them raise the required amount.
Jamar Johnson, Chief CBL Commissioner, explains why.
"We have presented to a number of angel investors to get the investment needed to expand nationally. They all loved our business model, but wanted to see us in action due to our unique ability to integrate with local communities," says Johnson.
Jamar and his team decided the best way to demonstrate CBL's ability was to stage a number of live productions in a handful of cities across the country. With this costing upwards of $25,000 per city – they felt that turning to crowdsourcing was an exciting way to get the money.
In fact, Jamar Johnson is not new to the idea of crowdsourcing – having personally invested in a number of crowdsourcing projects; he felt it was a realistic and innovative fundraising strategy.
"I enjoy doing my part and helping others through crowdsourcing. For example, my most recent backing was the Man-Child feature film that ended up raising over $125,000 on Kickstarter.com," he adds.
The benefits of investing in crowdsourcing projects are often understated. For example, a $25 donation to the CBL's fund could lead to a $4.5 million investment for the League's national expansion. It's a no-brainer for many basketball fans who want the pride of being a part of the sport's most warming success story.
As far as Jamar's plans go – he'll continue to back crowdsourcing projects.
"I plan to continue backing a wide range of projects as I enjoy the feeling that comes with knowing I made a difference. It's also a great story to tell around the dinner table or at the bar!" he concludes.
To learn more about the Community Basketball Leagues' project, you can find them listed as The Ultimate Amateur Basketball Experience! on the Rockethub.com website.
About Community Basketball Leagues
The CBL is the fastest growing professional basketball business in the United States, promoting health, wellness, life skills, education and business stewardship through its amateur-based basketball leagues.
Impacting people, communities and businesses, the CBL promotes amateur basketball to thousands of players and enthusiasts around the country.
Individuals are able to apply to start and manage their own league, as well as recruit players and organise CBL events in their own town.
More information about Community Basketball Leagues can be found at: http://www.cblhoopsusa.com/