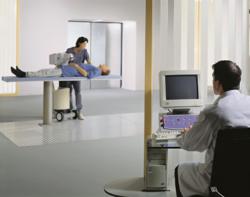 "With HDR, I spent 5 days instead of 7 weeks in breast cancer treatment. It makes a big difference."
Merced, CA (PRWEB) March 26, 2012
The El Portal Comprehensive Cancer Center (EPCCC) has launched and made available to patients one of the new revolutionary, top of the line treatments—High Dose Rate (HDR) Brachytherapy. This treatment is now included to the EPCCC line of services; improving cancer treatment options to new and existing patients in the Merced and surrounding areas. Studies including a recent one from American Cancer Society show with this technology, treatments can be decreased from six weeks to as few as five days. As featured in ABC News, New technology in Merced, CA will help patients fighting cancer.
High Dose Rate Brachytherapy is a designed to offer targeted radiation treatment solutions for patients in their fight against cancer. HDR Brachytherapy is a very precise form of radiotherapy. The treatment approach allows a physician to concentrate a high dose of radiation in a small area, minimizing damage to nearby, healthy body tissue and organs, over a shorter treatment period. This new addition to El Portal Comprehensive Cancer Center offer clients HDR in combination with other treatments, as an alternative, and/or a stand-alone option. When the fight against cancer is a reality for patients and their families, having available treatment options is vital. HDR is an effective treatment for numerous body-site cancers, such as breast, GYN, skin, prostate, lung, esophageal, and rectal cancers. Studies shows HDR Brachytherapy has significant benefits to patients, including but not limited to: delivery of treatment in minutes, reducing the need for hospitalization, offers patient comfort during treatment, has minimal side effects, and reduced recovery time. EPCCC is now a leader at providing this cutting edge treatment option to clients.
The El Portal Comprehensive Cancer Center is a Center of Excellence, offering State-of-the-Art equipment and specialty services to aggressively treat cancer. EPCCC is located in the Heart of California, offering patients quality care in the local vicinity and surrounding areas. Leading professionals take on a multidisciplinary approach to cancer treatments and design treatment plans that best meet the individual needs of patients. EPCCC providers are enthused to have a new advancement to their treatment options, "This new generation of treatment technology represents a major step in the fight against cancer."
HDR Brachytherapy is considered a new treatment of choice throughout the cancer treatment community and patients undergoing therapies. EPCCC is proud to offer cutting edge, cost effective, and continuous improvement treatments; that also provide maximum comfort and effective outcomes to patients and families facing, what can be, the most difficult time of their lives. El Portal Cancer is a client of Practice Marketing Company, "DDS Strategy." For more information on High Dose Rate Brachytherapy and if it is the right treatment for you or your loved one please visit http://www.elportalcancer.com or contact Debbie Peterson at dpeterson(at)elportalcancer(dot)com