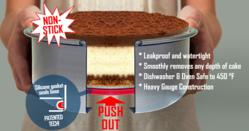 Matthew Canwell, of kitchenware chain Lakeland, said the tins have become so popular among cooks inspired by the BBC's Great British Bake Off series that they have sold out in some sizes and the manufacturers are struggling to keep up with demand.
(PRWEB UK) 26 March 2012
PushPan® is a loose-based cake pan that is completely watertight and leak-proof and requires absolutely no lining. An exciting world first, each pan has a uniquely integrated silicone seal on its loose base which guarantees that not a bit of cake mixture will leak out of the pan; and since not a drop of water can get in either, they're incredible for baking a cheesecake in a water bath without the tedious process of lining or wrapping the pan in foil first.
Advanced, patented technology ensures that any depth of cake will smoothly push out from the pan and even the most delicate of creations will easily emerge for perfect presentation every time. The PushPan® unfailingly handles large celebration cakes and eliminates the risk of breaking a precious cake.
The initial launch was a World first for UK retailer Lakeland which has exclusivity in the UK market. This has been quickly followed by distributors launching at national trade shows in Paris, Frankfurt, Toronto, Melbourne and culminating with PushPan® winning the prestigious prize for Innovation in Chicago last week - an award made by the great and good within the Housewares industry.