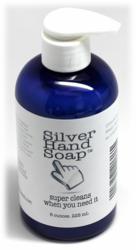 You can count on one hand the amount of ingredients in Silver Hand Soap™
Oregon City, OR (PRWEB) March 27, 2012
Famous for washing mouths out with soap, Tooth Soap®, Inc. announces an important new product to their expanding line of all natural and organic personal care products. To effectively address the needs of many consumers with serious concerns about "super bugs," an all natural, preservative free, perfume free and dye free hand wash has been created. "Hands and mouths get washed more than any other body part, so it made perfect sense to formulate an improved hand soap," says Rachel Adler, CEO of Tooth Soap, Inc.
Typical hand soaps became popular when chemicals were used to make soap instead of animal and vegetable fats. Since World War II, chemical soaps have dominated the market, with synthetic liquid hand soap leading the way. It wasn't enough to create just another liquid hand soap. Utilizing the latest information about the effectiveness of silver as an antibacterial agent, Tooth Soap, Inc. chose ionic silver as the flagship ingredient in this hand soap, named Silver Hand Soap™. "You can count on one hand the amount of ingredients in Silver Hand Soap™. When it comes to formulating natural personal care products, less is more," states Mrs. Adler.
What makes this new Silver Hand Soap™ so different is the infusion of pure ionic silver at a super safe limit of 5 parts per million (ppm). With band-aids and other commercial preparations utilizing the well known benefits of pure silver in topical applications, Silver Hand Soap™ is poised to become a leading hand soap. In addition to incorporating antibacterial silver into a truly all natural liquid soap, Silver Hand Soap™ provides a safe way to wash with no added dyes, perfumes, synthetic ingredients or artificial colorings.