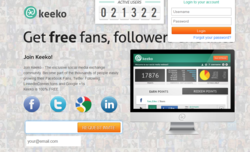 Come see the new and improved dashboard of Keeko and earn more fans, followers and likes.
Cebu, CEB (PRWEB) March 26, 2012
Keeko is the latest player to the social sharing platform on the web. It's an exclusive social community that allows individuals, businesses (big and small), public icons and more to get free fans, followers and likes. Developed in late 2011, they have grown considerably quickly in their member base and active users. Today, this social community has gained over 20,000 active users.
In order to continuously provide a memorable experience for their members, Clicking Labs, the company that manages Keeko has announced the release of their new internal dashboard. The dashboard sports an all improved sleek appearance, with the addition of new statistics for members to note their activities and progress. Diana Quartin, partner and Creative Director mentions "this new skin and dashboard that we've developed for Keeko will definitely help our members. Now it's easier for them to get free Facebook Likes, Twitter followers, and other web properties because things are much simpler. We're also planning in releasing an app for Apple devices."
The new and improved dashboard includes the ability to categorize Pages, Tweets, and URLs to specific niches. Classification of interests will fall on categories such as Automobiles, Fashion, Sports and various others. The networks supported by Keeko are currently the following: Facebook, Facebook Share, Twitter, Retweet and LinkedIn. Keeko is supplemented by a point system that allows users to gain points in order to redeem them as more fans, followers and likes. To be part of Keeko, one must request for an invite and later on be confirmed to join the ranks of other Keeko members.
After which, they are able to become part of an exclusive community, with the access to the latest insights in social media marketing through their blog section. Follow their social accounts on Facebook, Twitter, and other sources to know more about their business.
Request for an invite and join this exclusive community Keeko. Visit their website at http://www.keeko.com to start getting more fans, followers and likes.
About
Keeko is a wholly owned company by Clicking Labs. With dedication and perseverance they were able to bring together a diverse team of web professionals to provide internet businesses with creative web marketing strategies. Founded in Ottawa, Canada, the company has expanded operations to Cebu, Philippines in early 2011 to better serve its clients.
###