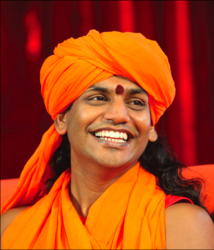 Los Angeles, California (PRWEB) March 23, 2012
The young enlightened Master Paramahamsa Nithyananda's meteoric rise by untiringly helping humanity to raise in consciousness, invited the ire and jealousy of few vested interests in the Indian media. He became a target of a vicious religious persecution. He became the target of a media frenzy which followed in the wake of the circulation of a defamatory fake scandal video.
The 2010 alleged scandal video showing Paramahamsa Nithyananda was sent to four U.S.-based forensic analysis experts.
All four experts have decades of experience—working with all levels of government and law enforcement and testifying at trial on a number of cases requiring forensic analysis expertise. They have given a professional analysis on the most "scandalous" video excerpt available online and offline. Two of the reports further analyzed the forensic reports commissioned by the Karnataka CID:
KEY FINDINGS on Key Video Footage:

"I have never seen such a grossly edited and altered series of defamatory videos in my time as a practicing audio and video forensic expert." Ed Primeau
"There is no audio on the video. It would have been very easy to record audio. I believe audio was not recorded so the actors in the video could not be identified. The audio would help authenticate this video clip using forensic voice identification to aid in identification of the persons in the video. Ed Primeau
"There is an unusual flickering to the left of the television of items on a nightstand that cannot be identified. This indicates video composite layering. If the flickering were a result of the light source, the television would be flickering." Ed Primeau
"As a video forensic expert, I recommend that this video be excluded from any factual relevance". Ed Primeau
"There are questions as to whether the video could have been faked. The simple answer is. Yes, quite simply. With today's roto-scoping faces on stunt persons in the motion picture industry commonplace, the technology is available for anyone with a little knowledge and a mid range home computer to be able to render scenes like these." Bryan Neumeister
"In this situation, video was allegedly taken December 23-25, 2009 and it emerged to the public March 2, 2010. What happened to the video during that time? We don't know. The chain in this case was broken -- not only a little but extremely -- because we don't have a trustworthy guardian of the video for over two months. During that time all kinds of digital manipulation may have been applied." David Notowitz
"Because the chain of evidence was broken, and in addition because it was broken for such a long time, it almost doesn't matter how much analysis you do. It's just not video we can trust." David Notowitz
"The YouTube video clips reviewed are very misleading, if not outright fraudulent, from an evidentiary standpoint: There are edits, insertions of music, singing and/or commentary, which are more than mere misrepresentations of the putative original video content." Herbert Joe
"If it is true that the woman is allegedly performing oral sex on the male, it is psychologically not possible for the male to be completely unaffected but in the video there is no change even in his breathing, facial expressions or body movements." Herbert Joe
KEY FINDINGS on Indian Forensic Report:

"It is of the expert opinion of the undersigned that such Report may not be admissible in any U.S. court of law, or may not survive a Daubert reliability challenge." Herbert Joe
"Based on the information provided in Reports 1 and 2, it is of the expert opinion of the undersigned that there is no forensically tenable basis to authenticate the silent video at issue, i.e., there is no forensically tenable basis to make a scientifically valid determination that the video at issue is a true and accurate reproduction of the original recording." Herbert Joe
"Furthermore, Report 1 does not explain the content, much less their forensic significance, of the clips or shots? Nor the content of retrieved files? Nor the relationship of the clips to deleted files? Nor the significance of video clips and deleted files? Etc." Herbert Joe
Another remarkable finding is that Report 1 is explicit in stating that it "contains 116 video clips" (Report, p.1), but also states in another paragraph on page 2 of the same report that the (same) DVD has all of the video recordings, along with the retrieved files on that DVD. In other words, the DVD either has 116 video clips in it, or 341 video clips (the sum of all the clips and retrieved files from both memory card), but not both, as the report states. Such inconsistency is very substantial." Herbert Joe
"Arguably the most remarkable "opinion" from the Examiner in Report 2 is that from an "image of person" having an unqualified "resemblance" to another can lead to the conclusion that that person and a particular another person "are of the same person." From "resemblance" to a positive identification based on the information in Report 2 is forensically, scientifically and even logically untenable." Herbert Joe
The only "forensic" conclusion about the "spy camera" was that it was in "working condition." Herbert Joe
"The report has no actual scientific data on it whatsoever. It is an inventory sheet of what was received and a person's best guess that the client and person on the video matched." Bryan Neumeister
"No forensic tests were performed according to the report. It was the person's estimation the person on the screen was the client and the recording was an original." Bryan Neumeister
Ed Primeau –Primeau Productions, Inc.
Audio Video Forensic Expert
Certified Digital Video CCTV Expert
Member ACFEI, AES, IAI, NSA
Herbert Joe – Yonovitz & Joe , M.A., J.D., LL.M., B.C.F.E.,
D.A.B.F.E., D.A.B.L.E.E., F.A.C.F.E.
Managing Partner, Yonovitz & Joe, L.L.P.
Board Certified Forensic Audio/Video Examiner
Registered Patent Attorney, USPTO, CIPO
Adjunct Faculty (Grad. Law), University of Phoenix
Licensed Instructor, Texas Board of Private Investigators
Bryan Neumeister – USA Forensic / Skymeister Forensic Lab
Audio & Video Forensic Expert
ACFE, AES, ABRE, APA, NATAS, BMI, ASCAP, PSA, ACFEi
COURT CERTIFIED: Military, Federal, State, Civil & Aviation
United States District Courts: Technical Expert Contractor
United States Department of Justice: Technical Expert Contractor
United States Grand Jury System: Technical Expert Contractor
Audio Engineering Society
American College of Forensic Examiners
American College of Forensic Examiners International
American Board of Recorded Evidence Standards
Recipient of 39 EMMY AWARDS – National Association of Television Arts & Sciences for Technical Excellence
David Notowitz – NCAVF
Mr. Notowitz created NCAVF, the National Center for Audio and Video Forensics. He is appointed to the LA Superior Court Expert Witness. Panel, and he is approved by the California State Bar as an MCLE provider, to provide continuing education to attorneys. In the beginning of 2011, David Notowitz was a video forensic consultant for the TV program The Insider.
A rare living Avatar from India, Paramahamsa Nithyananda, has emerged as a compelling spiritual force of this millennium. Working and sharing with over 20 million people worldwide every year, Nithyananda is committed to help humanity make the next big evolutionary breakthrough: into Superconsciousness.
For Paramahamsa Nithyananda's enlightening views of the 2012 Conscious shift to help humanity visit his YouTube/LifeBlissFoundation channel.