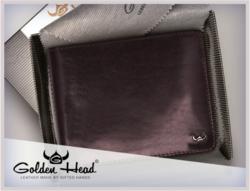 Our focus is on high-quality, distinctive products for men: be it in the shape of Nickel's cutting edge grooming essentials or Golden Head's clever design and fine crafting in leather goods
Toronto, Canada (PRWEB) March 27, 2012
Men can now look – and feel—their best thanks to Nickel For Men and Golden Head Leather Goods, the two newest signature lines available at Fendrihan.com. Internationally renowned, Nickel For Men and Golden Head offer uncompromising quality when it comes to their time-honored methods and formulas to produce their one-of-a-kind products.
"Our focus is on high-quality, distinctive products for men: be it in the shape of Nickel's cutting edge grooming essentials or Golden Head's clever design and fine crafting in leather goods," says K. Estredo, director of marketing for Fendrihan Limited.
Since 1996, Nickel For Men has devoted their time creating well-crafted skin care products specifically for a man, by a man. Their signature line features extremely effective and innovative products for no-nonsense men skin care. Known for their crisp scents and sturdy packaging, these cutting edge products help manage the challenges of male skin, from thickness to the daily trials shaving, sports and working present. Generously sized portions moisturize, revitalize, detoxify and clean for immediate and remarkable results.
The distinctive horned helmet has symbolized the uncompromising quality of fine leathers Golden Head Leather Goods has alone crafted since 1979. They have mastered the art of making noble accessories from fine leather by perfecting the harmony of the material and workmanship together to meet the needs of today's men of distinction. Golden Head's clever German design offers a wide range of expansive yet exclusive variety of small leathers including wallets, zippered key holders, and manicure sets available now at Fendrihan.com.
Men of distinction enjoy fine items, and with the introduction of Nickel For Men and Golden Head Leather Goods, managing their assets, whether that includes skin care or day-to-day tasks, has never looked so good or been so easy. For more information visit http://www.fendrihan.com/
About Fendrihan:
Fendrihan is the premier Canadian online destination for shaving and grooming supplies for men. With a comprehensive product range that includes traditional grooming staples, hard-to-find products from around the globe and some of the most reputed names in gentlemen's personal care, Fendrihan's selection appeals to veteran wet-shavers and men of any age looking to elevate their daily grooming rituals.
Contact
K. Estredo
Director of Marketing
Sales(at)fendrihan(dot)com
1(905) 696-9997
###