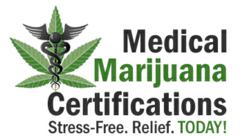 Renewal certifications with our Arizona medical marijuana doctors are only $99.
Phoenix, AZ (PRWEB) March 29, 2012
Arizona MMC, the premier office for Arizona medical marijuana card certifications, announced a substantial $25 discount on card renewals this month. The renewal price with the discount is $125 and includes the exam, record review, and assistance with the online state application.
The renewal price for the medical marijuana card Arizona is good not only for those patients who had their primary certifications done at Arizona MMC, but at any location.
"It's important for us to offer a superior service at a superior price. This discount supports our goal of helping patients, and we offer help with the online application process at no additional charge," said CEO David Greene.
The Center has recently moved locations to a larger clinic in Central Phoenix, and expanded its hours. The Center is now open Monday through Friday from 10AM to 6PM, and accepts walk-ins from 10AM to 5PM on those days.
Appointments can be made directly on the website along with completing the medical record release forms. Or prospective patients for a medical marijuana card in Arizona may simply call the toll free number at (855) 294-3227 for assistance.