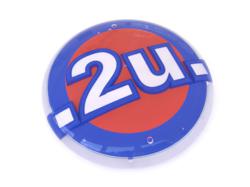 Here are a few tips and Apple Store Apps to help keep allergy misery at bay from 2u.co.uk
Lubenham, Leicestershire (PRWEB UK) 27 March 2012
Spring is in the air, but while an abundance of plants and trees bud and burst into bloom bringing a smile for many, the 15 million Brits with hay fever could soon be in tears say 2U Ltd.
According to BBC reports there are over 15 million people with hay fever in the UK and most are allergic to grass pollen but the BBC go on to say 4 million hay fever sufferers whose symptoms are triggered by tree pollen may have already felt the effects. Due to a mild winter, trees (which pollinate earlier than many other plants) started pollinating earlier than the official date this year and it is not just in the UK. In some parts of America at the moment, pollen counts have reached a record high and symptoms cannot only cause untold misery but seriously hamper one's lifestyle, severely limiting outdoor activity for some.
Hay fever is caused by airborne pollen spores from trees, plants, grass and weeds. Proteins in the pollen can cause swelling and irritation in the throat, nose, eyes and sinuses leading to sore, itchy eyes, sneezing and a runny nose. The severity of the condition, which the NHS says 'affects up to one in five people at some point in their lives' differs, but some pollens can create serious problems for people with asthma, triggering an attack.
Pollen counts in urban areas are often higher than in less populated parts of the UK as towns and cities have been proven to contain closely related flora which is more likely to pollinate than that in rural areas. High levels of excess moisture in the atmosphere created by the heat from buildings and roads also increase pollen production in trees, heightening the pollen count.
Most people with hay fever will not experience any symptoms until later in June/ July when the mowing season is in full swing as a staggering 95% of the 15 million recorded sufferers are allergic to grass pollen. In a survey by market analyst, Mintel, studying 1,000 people with allergies in general, the most common were allergies to pollen at 26%, followed by dust mites (11%) then pets (9%) and food allergies to eggs, fish and seafood.
The good news is, according to the NHS, hay fever symptoms usually lessen as people get older and there are some measures one can take to lessen the effects. Here are a few iPhone and iPad apps that can help, followed by a some tips on how to avoid triggering hay fever symptoms.
Outside – Visual Weather £1.99. Keeping up with the weather is vital for those with hay-fever and asthma. This vivid high ranked weather app enjoyed favourable reviews from the New York Times amongst others and is fun to use come rain or shine with stunning visuals that monitor and deliver news on local weather conditions including UV levels. Also shows weather conditions around the world and allows the user to set up alerts.
Piri Pollen which is free for iPhone is specifically for pollen counts. It is average rated but seemingly the best of the apps for pollen forecasts. It gives the latest three days forecasts, allergy facts and information on medications and the nearest stores and pharmacists to where ever the user is.
My Asthma is a top-rated free app designed for 12 year olds and upwards with a local environment dashboard so the user can check pollen and pollutant levels as well as temperature and pressure whatever location they are in. It also has a visual diary to record details of asthma attacks, an info library and personalised notifications specific to the user's profile.
Asthma MD is free for Apple iPad, iPhone and iPod. Average rated but seemingly the next best after My Asthma. The application helps users track and identify possible triggers with a quick and easy to use diary and at-a-glance, colour graphs.
Health Remedy £0.69 – Contains information and tips on natural ways to help cure, prevent or relieve the symptoms of many health problems including asthma, rather than using tablets and chemical based medications.
Pollen Count. £0.69 - Having a pollen allergy is no laughing matter but for a little light relief try this fun line drawing games app. The aim is to collect pollen from colourful flowers while avoiding fellow bees, birds and a host of creepy crawlies as well as zombies. Or try the free games app for all ages and abilities, Popper Lite and zap those spores that cause so much untold misery for so many. The user scores points for popping pollen spores at varying rates of difficulty before they make it across the screen.
Tips to prevent triggering hay fever symptoms:
Check the weather and pollen count and do any outside activities when the pollen count is low which sorry to say, is generally on rainy, humid or overcast days. Pollen is released by many trees and plants around dawn and at its highest on warm, dry mornings peaking at midday but levels can sometimes remain fairly high into the evening when the weather is very warm and breezy.
Accessorize against allergies. Hats and sunglasses or visors which shield the sides of the eyes too can help stop pollen getting onto the hair and eyelashes and prevent irritableness.
Avoid high-energy outdoor exercise when pollen counts are high. Workouts which are fast moving and increase the respiratory rate such as; jogging, cycling, tennis and team games are best left for another day. These activities are more likely to trigger an allergic reaction because when a person moves at speed through the air even more airborne pollens hit the face. When inhaled, this increased amount can bring on an allergic attack.
Take antihistamine before venturing out so the medication has a chance to start working rather than wait for the symptoms to occur. If intending to drive or do any activities which require attention avoid 'sedative' antihistamine. Anti-sedatives types are available but check on the packet or with a doctor first to ensure one is not allergic to either type of antihistamine before taking. Saline eye drops and nasal sprays can also help to alleviate irritableness or take a look at natural remedies.
Keep windows closed in the home to prevent pollen entering and also car windows if traveling.
Take a dip before changing clothing as soon as possible after returning indoors. This removes any remaining pollen from the hair, skin and eyelashes.
For more tips, technology news, or to compare iPhone insurance and protection for iPads and other digital devices, visit 2u.co.uk