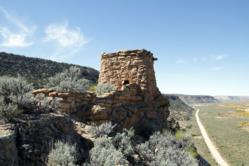 "These colorful drawings bring Navajo religious figures to life, like the stained glass in the cathedrals of Europe" archeologists Larry Baker, Executive Director of Salmon Ruins
Farmington, N.M. (PRWEB) March 23, 2012
Salmon Ruins Museum offers an exclusive series [guided tours into little known early Navajo pueblitos built between 1680 and 1775 in northwest New Mexico. These adventure tours take you to hidden canyons east of Farmington, N.M. near the San Juan River in an area administered by the Bureau of Land Management. The day-long four-wheel drive tours are led by archeologists Larry Baker, Executive Director of Salmon Ruins and Nancy Espinosa, and the museum curator.
In the 18th century Navajos shared this area they called the Dinetah, with Utes, Apaches and the early Spanish explorers. Each of them farmed, hunted and often fought each other in this rugged high-desert wilderness now chiefly inhabited by elk, golden eagles, mountain lions and villages of prairie dogs.
The Salmon Ruins tour brings you to "castle" fortresses Navajos built to save themselves from slaving raids by their adversaries. More than 217 stone pueblito sites were erected in this area. They were built for defense, on boulders, rock outcroppings, and on the edges of mesas, offering wide views of the countryside and other pueblitos.
In these little known early settlements are Navajo works of art, pictographs sheltered on ledges and canyon walls. "These colorful drawings bring Navajo religious figures to life, like the stained glass in the cathedrals of Europe" says Baker. Tour participants find drawings of elk hunts, birds, corn crops, warriors and supernatural beings all providing a vivid picture of the Navajo's lifestyle in that period.
The fee for a full-day Salmon Ruins "Journey into the Past" tour is $295 for one or two people including the guide, transportation, permits from the Bureau of Land Management (as needed) a sack lunch, beverages, and water. Each extra person is $35. More information and an area map are available on the Farmington Convention & Visitors Bureau website. Reservations for the May 12th tour can be made by calling (505) 632-2013