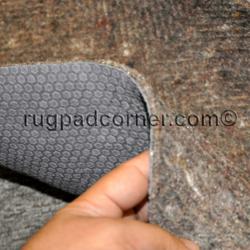 We know that a silk rug requires the best rug pad, which is why we wouldn't just use any rug pad. Ultra Premium provides an excellent foundation and support to all silk rugs.
Wilton, CT (PRWEB) March 25, 2012
Rug Pad Corner, the nation's online source for quality rug pads, is pleased to announce that its Ultra Premium felt and rubber rug pad has been voted as best rug pad for silk rugs. Thousands of customers, to include rug dealers, homeowners, interior designers and architects, tested Ultra Premium under fine quality silk rugs and found it to offer the best support while keeping the silk rug as flat as possible.
"This is the perfect example of how it is very important to use the right rug pad under a specific type of rug", states Sam of Rug Pad Corner. "Most stores think that a rug pad is just a rug pad, yet there are significant differences in the performance of one rug pad to another based on the application." Sam continues to state that the company takes great pride in offering rug pads that will compliment the type of rug it is used with and that Ultra Premium is made in such a way as to be extremely effective under silk rugs.
Customers across the country were asked to use Ultra Premium under their fine silk rugs. Many customers complained of their current rug pad not keeping the silk rug flat or in place. When Ultra Premium was placed under the silk rugs, every rug remained flat without wrinkles. And, with the rubber side of Ultra Premium against the floor, the silk rug and the rug pad stayed in place. Customers voted unanimously about the result and many were so used to the way their previous rug pad performed that they thought they would just have to live with the fact that their silk rug would always need to be straightened.
By nature, silk rugs are finely woven and the result is normally a supple, delicate feeling rug. Ultra Premium rug pad contains a unique texture within the top felt surface and lower rubber surface to protect any silk rug as it should be protected. The felt grabs and holds on to the silk rug to prevent lateral movement on top of the pad. The rubber holds to the floor to prevent any silk rug from slipping. Combine all of this with the fact that Ultra Premium is perhaps the most dense rug pad available and any silk rug is protected like it should be.
Rug Pad Corner takes rug pads seriously and offers its Ultra Premium rug pad for silk rugs in all sizes and shapes. Since silk rugs are handmade, they often are irregular and the company will custom cut a rug pad at no additional charge. All silk rug pads are shipped for free within the contiguous United States.