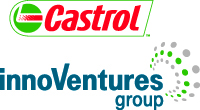 "The Castrol 20/20 Challenge is an exciting event for us and one which forms an important part of our overall Open Innovation and Corporate Venturing agenda."
- Mike Johnson, Chief Executive of Castrol
London, England (PRWEB) March 28, 2012
Castrol teams up with European startup accelerator Startupbootcamp to launch the Castrol 20/20 Challenge. If you have companies or applications with a strategic focus on Smart Mobility, Intelligent Operations, Next Generation Engineering or Responsible Castrol, apply today. Finalists will be flown to London or Shanghai for a chance to win $10,000 USD in funding, exclusive mentorship from entrepreneurs and investors as well as an opportunity to develop their company in partnership with Castrol. All companies across the globe are encouraged to apply.
CASTROL 20/20 CHALLENGE
Castrol has long been pioneering the limits of innovation for more than a century. With advanced R&D technologies, strategic alliances with industry-leading OEMs and over 1,000 distribution partners globally, Castrol is now looking to team up with their next partners for success. The Castrol 20/20 Challenge invites companies, startups, researchers, entrepreneurs and small businesses everywhere with a focus on Smart Mobility, Intelligent Operations, Next Generation Engineering and Responsible Castrol to submit for a potential partnership and research development opportunities with Castrol.
HOW TO APPLY
In order to be considered as a finalist, Castrol is looking for a team or company that has a unique technology application or business model within one of their four strategic focus areas listed. Teams will apply to one of the locations in London (Application Deadline: April 22nd) or Shanghai (Application Deadline: June 3rd), and if successful will be invited to either location, with all expenses paid, for a two-day event pitch to industry leading executives and experts.
One winning team will be selected from each event location and will be awarded $10,000 USD. In addition, they will also receive exclusive mentorship from successful entrepreneurs, investors, commercial & technological experts as well as access to Castrol executives. If you are a startup, SME or company that has a solution that falls into either of the four categories, please visit the website to apply.
ABOUT STARTUPBOOTCAMP
Startupbootcamp (or "SBC") is a three month business startup acceleration program for startups, entrepreneurs and small businesses across Europe to get ready for funding, launching and scaling to European and global markets. By locating startup teams to one of Startupbootcamp's program offices in Copenhagen, Amsterdam, Dublin (and just recently Berlin) the accelerator focuses on exposing and connecting startups to an expanding community of key mentors and advisors that provide expertise from a multitude of verticals, industries and regions vital in growing a business. For more information visit Startupbootcamp or follow on twitter at @SBootCamp.