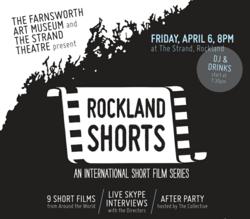 rockland, me (PRWEB) March 23, 2012
On Friday, April 6, the Farnsworth Art Museum and The Strand Theatre in Rockland will present the second screening of new films in the international short film series Rockland Shorts. The screening, which is being followed by a Farnsworth Collective After Party at the museum's Wyeth Center, will take place at The Strand Theatre from 8 to 9:30 p.m. The doors will open at 7:30 p.m. with music and a cash bar. The films in the series are not rated. Please be advised that some of the films may contain adult language and sexual content, and may not be suitable for young audiences.
The series, which premiered on February 3, consists of an hour of short films selected from an open call to filmmakers. Select filmmakers and media artists from the series then join in a post-screening discussion in person or via Skype for a conversation with the audience. The films for this screening come from Iran, Turkey, Sweden, Germany, Japan, Portugal and the Unites States. Included are films that premiered at the Cannes (2011), Sundance (2012), and Berlin (2012) International Film Festivals, as well as works by two local artists. Rockland Shorts strives to show contemporary, probing, independent films that help define the digital generation without restriction of culture, format, formula or genre. The third screening will take place on Friday, June 1.
Following the screening and discussion, there will be an After Party hosted by the museum's new membership group The Collective. The event, which will take place at the Farnsworth's Wyeth Center, at the corner of Union and Grace Streets in Rockland, will feature cocktails, savory treats, a happening artistic scene and live music provided by Just Teachers. The fee for the screening and After Party is as follows: free for Collective members, $10 for Farnsworth members, and $12 for non members. Tickets may be purchased at the door or in advance by calling the membership office at 207-596-6256. The Collective event is sponsored in part by Bangor Savings Bank, Lincoln Street Center for the Arts and Education, Just Teachers and Café Miranda.
Filmmakers wishing to submit films for consideration for the June screening may do so via withoutabox.com. All entries can be no longer than 40 minutes and are chosen solely on the quality of the material. Rockland Shorts is a partnership between the Farnsworth Art Museum and The Strand Theatre, and is being organized by Rockland Shorts Program Director Sally Levi, Farnsworth's Education Department staff and The Strand staff.