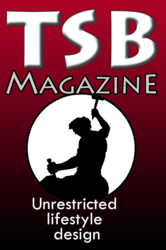 While Google Plus is still in its infancy in terms of user interaction, we feel that the more places we can interact with our readers the better
(PRWEB) March 28, 2012
TSB Magazine, a 7 year old website dedicated to teaching men the art of meeting women, has unveiled their brand new TSB Magazine Google Plus profile.
TSB Magazine recently made their new Google Plus profile available to the public. The profile currently features status updates discussing their new ventures into publishing on the Amazon Kindle, as well as the founder, Bobby Rio, personal project; Magnetic Messaging.
"We thought it was about time TSB Magazine made its presence felt on Google Plus," said Rio. "Our facebook fan page already has a strong following so the natural next step was to interact with our readers on Google's platform."
TSB Magazine Facebook Fan Page currently has over 14,000 followers. The page is updated 3-4 times a day with status updates discussing topics like: how to talk women, how to flirt, text messaging tips, and general dating and lifestyle advice for men.
"While Google Plus is still in its infancy in terms of user interaction, we feel that the more places we can interact with our readers the better," says Rio. "We also believe that it won't be long before Google Plus is a dominant player in the world of social networks."
At the moment TSB Magazine has less than 500 followers on Google Plus. TSB's Google Plus page is not being updated as frequently as their Facebook Page. But Bobby Rio has stated "Over the course of the next month we will be making a major push to connect with our subscribers over Google Plus."
The website also boast a page on Youtube with several hundred subscribers. TSB Magazine's Youtube Page has also recently undergone a renovation, and the page has begun adding new videos for the first time in over a year.
"We think it's just a smart move to be featured on web properties that Google owns," says Rio. "With the way search is changing it was be stupid to ignore things like Google Plus and Youtube for search traffic."
TSB Magazine receives roughly 400,000 unique visits per month. The majority of its readers are single men looking for dating advice. The men's advice site covers topics like opening lines, online dating tips, bedroom tips, and how to build a more abundant social life.
The site also features a 31 Days to Better Game email series that provides subscribers a daily lesson on improving their dating life via email for 31 straight days.
To learn more visit: http://www.tsbmag.com