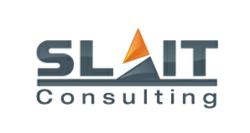 We are now a company with more than 350 professionals on staff and serve a significant portion of the Eastern U.S. We felt our name should better reflect our broader IT role and call attention to our expansion and future plans
Virginia Beach, VA (PRWEB) March 25, 2012
PlanIT Technology Group is changing its name to SLAIT Consulting.The new name change reflects the company's enhanced focus on technology consulting, including managed services, ITIL-focused service desk outsourcing, seat management services, and general IT outsourcing services. SLAIT Consulting will continue to offer a full range of other IT services such as virtualization, network and security, enterprise storage and professional services.
SLAIT President Nigel Buttery said the new name reflects the rapidly changing nature of the company's service offerings, its staffing and its expansive geographic service area. "We are in an industry that literally changes every day. We have been fortunate since our founding in 1990 to be able to stay ahead of the curve and evolve with the technology," Buttery said. "We are now a company with more than 350 professionals on staff and serve a significant portion of the Eastern U.S. We felt our name should better reflect our broader IT role and call attention to our expansion and future plans," he added.
SLAIT Consulting is based in Virginia Beach, Virginia. However, the company has expanded its services reach with offices in Richmond, VA; Raleigh, NC; Gaithersburg, MD (serving the Washington, DC market) and New York. SLAIT Consulting specializes in delivering customized, creative IT services & solutions for customers in the commercial business sector and in state and local government.
###
About SLAIT Consulting:
SLAIT Consulting is an Information Technology consulting services company that specializes in delivering customized, creative IT solutions for customers in the commercial, state and local government sectors. Services provided are: Virtualization, Professional Services, Managed Services, Enterprise Storage, Network and Security. SLAIT is a privately owned firm, with a staff of over 350 professional employees serving clients along the east coast and west to Texas. SLAIT works with their clients to take new approaches to reducing costs, increasing performance and mitigating risks. SLAIT is headquartered in Virginia Beach, VA, with regional branch offices in Richmond, VA; Gaithersburg, MD; Raleigh, NC and NY, NY. For additional information, please call 800.761.6898 or visit: http://www.slaitconsulting.com