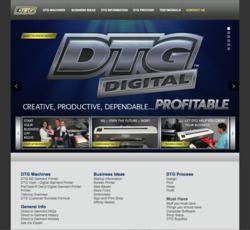 Tampa Florida (PRWEB) March 25, 2012
ColDesi, Inc. unveils a new web site for DTG digital garment printers - helping people start or expand their business into the digital garment printing market.
ColDesi, Inc. announces the launch of a new web site dedicated exclusively to the DTG brand of direct to garment printers. The DTG digital garment printer web site http://www.dtgprintermachine.com is designed to help people learn about the business of direct to garment printing with more product information, insightful business tips, how to set up a shop, video demonstrations and expert advice.
The DTG garment printer web site is easy to navigate through with colorful graphics showcasing the history of the DTG, the DTG process, plus marketing and application ideas for start-up and existing businesses. It features the top models of the DTG brand – the new DTG M-Series, the DTG Viper and the DTG PreTreat-R Gen. II machine. Customers can learn about the patented WIMS white ink management system for printing on dark color garments and how to configure the different size platens for printing one large graphic or up to 4 smaller designs at one time.
http://www.dtgprintermachine.com is a great resource for people looking to get into the digital garment printing business. For those who are already using the DTG digital garment printer, the site will help them with technique and also show them suggestions for expanding their clientele.
Visit the web site at http://www.dtgprintermachine.com or for more information contact ColDesi at 877-793-3278; email sales(at)coldesi(dot)com.