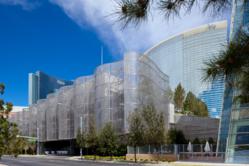 Cambridge, MD (PRWEB) March 26, 2012
With over 60 years of experience engineering and installing architectural mesh systems, Cambridge has a wealth of products and projects to explore. The intuitive new site allows architects, designers and installers to discover the diversity of functions and applications of architectural mesh – architectural mesh systems are not only beautifully unique; the nature of metal mesh makes them a functional element to any design.
Cambridge Architectural has more than 500 completed installations worldwide. The team has worked with some of the most renowned visionaries and top-of-the-line contractors to create proven systems that Cambridge has perfected and simplified, making its products not only visually interesting, but easy to work with.
When entering the new Cambridge Architectural website, visitors are intuitively led into an experience unlike any other. Discover the variety of projects, both interior and exterior, from parking garages to museums to hospitals, which have utilized mesh systems and learn about their form, function and design. Explore the varieties of possible combinations of mesh patterns and original attachments, and Cambridge's ability to develop custom solutions to fit any design. Visitors can also read testimonials and learn about the benefits of working with a full-service provider, including design assistance, installation, and sustainability.
As always, find the newest press releases, photos, and news coverage on the press page or learn about the history of Cambridge Architectural and its parent company, Cambridge International – a 100-year-old manufacturing firm based on Maryland's Eastern Shore.
Visit the new website to experience Cambridge Architectural at http://www.CambridgeArchitectural.com. Don't forget to follow Cambridge on Twitter @CambridgeArch, and Like the Facebook page at http://www.facebook.com/CambridgeArch.
As the world's leader in architectural mesh systems, Cambridge Architectural is the only full-service provider that partners with the project team from initial design to final installation. Cambridge offers sustainable systems for both interior and exterior applications and provides solutions for all types of building projects, environments and budgets. For more information about Cambridge Architectural, call 866-806-2385, or visit http://www.CambridgeArchitectural.com.