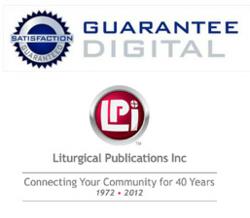 Connecting communities has been the mission of Liturgical Publications Inc (LPi) since 1972, and now it is being joined in that mission through a partnership with Guarantee Digital
Delafield, WI (PRWEB) March 26, 2012
Through their new partnership, Guarantee Digital will focus on helping LPi clients achieve maximum online exposure while significantly increasing their visibility on search engines like Google, Yahoo Local, Bing and LPi's own Seek and Find business directory.
LPi President Paul Knappen noted, "Our partnership with Guarantee Digital is a natural extension of what we've always done, providing cost effective marketing programs that connect our local clients with their communities. Our clients will now not only get great presence on our own seekandfind.com site, but also take advantage of the massive reach of sites like Google and YouTube"
Daryl Hively, Founder and CEO of Guarantee Digital agreed. "We think it's a great partnership. Considering that 89 percent of consumers now use the web to learn about new local products and services, it's a natural fit with what LPi's product mix. " Hively also noted that "It's important that businesses be listed on the first page of any search result, as only 5% of consumers ever move on to page two. Google does a good job of providing what consumers are looking for."
One of Guarantee Digital's key offerings for LPi clients will be custom online infomercials that are search engine optimized for a specific geographic area using the most-searched keywords related to that business. See examples here http://www.guaranteedigital.com/samples. The video will also be featured on LPi's Seek and Find business directory, http://www.seekandfind.com which connects consumers with religious publications nationwide, and the businesses that support those publications.
Following in the tradition of LPi's value added support for the Churches, Guarantee Digital will create at no cost based on Sponsor participation, an online infomercial for each Church to help them connect with potential new members who are searching for a place of worship online.
Business sponsors of LPi may find out more about this new partnership and building support for both their business and their local Church by calling Guarantee Digital toll free at 800-583-9113.
About Guarantee Digital: Guarantee Digital is a Delafield, Wisconsin based advertising agency that drives results for clients and Media partners through Search Engine Optimization, Viral Video Marketing, Web and Mobile site design, Reputation and Social Media Management. For additional information, visit http://www.guaranteedigital.com or call 800-583-9113, or for Wisconsin residents, 414-234-8529.
About Liturgical Publications Inc: Liturgical Publications Inc (LPi) is a New Berlin, Wisconsin based company that publishes bulletins and newsletters for churches and organizations throughout the United States. Family-owned since 1972, they offer custom communication solutions backed by industry-leading service. LPi also provides a variety of online services, including http://www.SeekAndFind.com, a directory of local churches and the businesses that support them. LPi has regional offices in Milwaukee, WI; Cleveland, OH; and Hartford, CT. They support sales and service offices in Denver, CO; Edina, MN; Detroit, MI; and Hampton, NH, as well as regional representatives located in a city near you. For more information, visit http://www.4LPi.com or call 800- 950-9952.