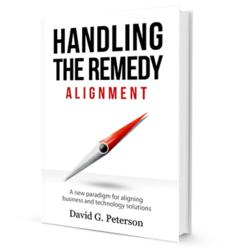 Alignment plays a vital part in the overall success of an organization
Mississauga, Ontario (PRWEB) March 27, 2012
The current economy has created a dramatic shift in the business environment and has forced organizations to restructure its departments. Layoffs, outsourcing and merging are just a few of the changes that add to internal and external misalignment leaving many corporate leaders asking, "How can I best align my organization to effect productive and profitable results?"
"Alignment plays a vital part in the overall success of an organization, and many organizations do not understand the principles behind this, nor do they know how to implement it," said Peterson. "My book is based on real-world skills and insights that can help transform a business, improve productivity and jumpstart bottom line profitability."
Peterson defines alignment as a synergy between people, processes and best practices to meet organizational, departmental and divisional objectives. This interlinking must be in place to deliver on the organization's promise to its customers and help the business as it moves into the future. Handling the Remedy is specifically geared at the change agents, or the leaders of an organization.
"Sometimes support staff do their job not knowing how it impacts other areas of the company, or how it benefits the customer" said Peterson. "This book looks to address that problem and bring together people, technology and the processes they use to truly align the entire organization."
The book features a variety of question and answer exercises that look to engage leaders and employees alike, and provides a point of reference to help leaders take a common sense approach when creating critical alignment processes.
"In today's environment of decentralized support models, ever changing technologies, shrinking budgets and the need to do more with less, Handling the Remedy begins by placing the focus back where it belongs," said reviewer James Bennett. "With almost as many standards to adopt as there are types of industries to apply them to, everyone rushes into the latest trend or industry mandate without remembering the first key to any organization which is effective alignment of the team under a common understanding. More than any other challenge, this will be the one that will prevent any good company from becoming great and [Peterson] tackles it head on."
Handling the Remedy is available at Amazon, Barnes and Noble and other leading retailers for $19.99. The eBook version is also available for use on Nook, Kindle, iPad, Sony Reader and other devices for $9.99
About the Author
David G. Peterson is a business consultant and has extensive international experience managing projects and operations for large financial institutions. He has worked in North America, Europe, Middle East and Asia skillfully managing business and technical requirements, core systems enhancement and support, merger and acquisition integrations, business process reengineering, off-shoring and outsourcing.
Peterson is available to speak about his experience behind the penning of Handling the Remedy. He is also able to provide customized alignment solutions on how to make organizations work cohesively and get companies to improve the 3 P's: performance, productivity and profitability.