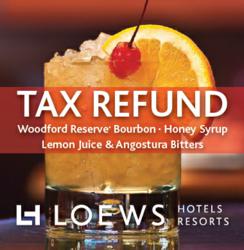 New York, NY (PRWEB) March 26, 2012
Loews Hotels will be brightening up guests' woes leading up to Tax Day on April 17th with specialty cocktails even an I.R.S. agent would love!
Loews is collaborating with master mixologists Tad Carducci and Paul Tanguay from Tippling Bros. to mix, shake and stir things up for Loews guests. United in perfecting the art of the drink, together they have fashioned award-winning liquid libertines and are two of the beverage industry's most sought-after consultants and educators.
"Everyone could use a break on Tax Day, so Loews Hotels and the Tippling Bros. went all out to ensure the month of April will be a happy one for Loews guests," said Constantine Dimas, Vice President of Food & Beverage. "We're delighted to have them on board – you and your accountant will be too!"
The delicious concoctions will be available at participating Loews Hotels and Resorts April 2nd – 30th. The featured cocktails are:
• The Tax Audit with American Moonshine, fresh lemon juice, simple syrup and club
soda, served in a Collins-style glass and topped with a brandied cherry.
• The Tax Refund with Woodford Reserve Bourbon, honey syrup, fresh lemon juice,
bitters shaken and strained over crushed ice, and garnished with orange and cherry.
For more information or to arrange your stay at Loews Hotels, call 1-800-23-LOEWS or visit http://www.loewshotels.com.
*Prices vary at each location.
About Loews Hotels
Headquartered in New York City, Loews Hotels owns and/or operates 17 hotels and resorts in the U.S. and Canada. Located in major city centers and resort destinations from coast to coast, the Loews portfolio features one-of-a-kind properties that go beyond Four Diamond standards to delight guests with a supremely comfortable, uniquely local and vibrant travel experience. Loews boasts some of the industry's most innovative and successful travel programs, including Loews Loves Kids for families and Loews Loves Pets for discerning animals on the road. For reservations or more information on Loews Hotels, call 1-800-23-LOEWS or check http://www.loewshotels.com.
Follow Loews Hotels on Twitter: http://www.twitter.com/loews_hotels
Like Loews Hotels on Facebook: http://www.facebook.com/LoewsHotels
Watch Loews Hotels on YouTube: http://www.youtube.com/LoewsHotels
###
Contact:
Loews Hotels
Lark-Marie Anton
(212) 521-2779
lanton(at)loewshotels(dot)com
Hawkins International Public Relations
Emily Easter
(212) 255-6541
emily(at)hawkpr(dot)com