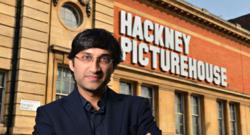 The film programme for the London 2012 Festival not only showcases the UK's leading talent but importantly, when the eyes of the world are on us, gives a platform for young and emerging filmmakers to showcase their work on a world stage
(PRWEB) March 23, 2012
Organisers have today revealed details on the film programme for the London 2012 Festival – a 12 week UK-wide cultural celebration from 21 June and running until 9 September 2012 bringing together leading artists from across the world with the very best from the UK.

BAFTA winner Asif Kapadia awarded final commission in series of short film co-commissions by Film4, BBC Films & London 2012 Festival
Twentieth Century Fox and BFI bring remastered 'Chariots of Fire' to cinemas across the UK
BFI screens restored silent Hitchcock films with live performances of new scores across London: The Ring with Soweto Kinch at Hackney Empire on sale today
Thousands participate to create films by and for children to be screened to millions in Olympic venues
Hackney born BAFTA winning filmmaker Asif Kapadia (Senna, The Warrior, Far North) has been commissioned for the London 2012 Festival as part of the BBC Films and Film4 co-commission of four short films that showcase great UK filmmaking talent. These films receive funding from the National Lottery through the Olympic Lottery Distributor and Creative Scotland.
The new film by Kapadia, titled The Odyssey, will join three new films by leading UK filmmakers that have already been confirmed as part of the commission: A Running Jump by Mike Leigh featuring Eddie Marsan, Sam Kelly and Samantha Spiro; The Swimmer by Lynne Ramsay, director of the critically acclaimed adaptation of We Need to Talk About Kevin; and What If, directed by Streetdance directing duo Max Giwa & Dania Pasquini starring Noel Clarke, George Sargeant and Theo Barklem-Biggs.
These four films will receive their world premiere at the Edinburgh International Film Festival on 24 June and their London premiere at the Hackney Picturehouse on 25 June, with a live simulcast to around 50 cinemas across the UK thanks to a partnership with Picturehouse cinemas. The films will also be screened on the BBC and Channel 4 during the London 2012 Festival period, TX details will be announced later.
It is today announced that Twentieth Century Fox and the BFI will release a new, digitally remastered version of multi Oscar-winner Chariots of Fire in cinemas across the UK as part of the London 2012 Festival. From 13th July, a whole new generation will be able to enjoy the ultimate Olympic film classic, directed by Hugh Hudson and produced by Lord Puttnam, on the big screen.
As part of the London 2012 Festival film programme, the BFI will also present Alfred Hitchcock's early silent British masterpieces, restored to their former glory by the BFI National Archive and presented in a series of spectacular one-off screenings across London with newly commissioned scores performed live by contemporary British music talent.
The BFI today confirmed as part of the programme there will be a new screening of Hitchcock's The Ring (1927) at Hackney Empire on 13th July with a new Jazz score performed live by rising star Soweto Kinch. Nitin Sawhney will be performing a new score for The Lodger at The Barbican Hall on 21stJuly with Daniel Patrick Cohen performing his score for The Pleasure Garden at Wilton Music Hall on 28th and 29th June.
What's Going On?, a new documentary by Penny Woolcock, will tell the story of two rival gangs in Birmingham involved in a postcode war for fifteen years who are looking to succeed in reaching a truce.
On television, BBC Two's Shakespeare history plays Richard II (directed by Rupert Goold), Henry IV Part I and Part II (directed by Richard Eyre) and Henry V (directed by Thea Sharrock) will feature an all-star cast including Jeremy Irons, Ben Wishaw, Tom Hiddleston, Patrick Stewart, David Suchet, David Morrissey, Simon Russell Beale, Julie Walters, John Hurt, Richard Griffiths.
BABYLON/DON is legendary director Julien Temple's epic time-travelling voyage to the heart of his hometown, to be shown as part of the BBC's London Season. From musicians, writers and artists to dangerous thinkers, political radicals and above all ordinary people, this is the story of London's immigrants, its bohemians and how together they changed the city forever. Reaching back to the dawn of film in London at the start of the 20th century, the story unfolds in film archive, voices of Londoners past and present and the flow of popular music across the century; a stream of urban consciousness, like the river which flows through its heart. It ends now, as London prepares to welcome the world to the Olympic and Paralympic Games.
Britain In A Day, to be screened on BBC2, is an ambitious nationwide project to capture a day in the life of Britain using footage shot entirely by the people of Britain. Award-winning director Morgan Matthews will use the rich trove of material submitted to craft a feature-length documentary film that captures the variety and vibrancy of life in Britain today.
Visual artists producing films for the London 2012 Festival include Turner Prize winning Scottish artist Douglas Gordon who has been commissioned by Great North Run Culture and Locus+ to create a film titled The End of Civilisation. The film will feature the burning of a grand piano on the Scottish / English border to be shown in Newcastle-upon-Tyne in July. ReKindling Venus by renowned Australian artist Lynette Wallworth is a film which immerses the audience in the intricate, complex life of the marine environment, especially created for planetariums and premieres at the Royal Observatory and around the world on 5 June 2012 to coincide with a rare astronomical event - the transit of Venus.
Shezad Dawood's Piercing Brightness is an exhibition by internationally acclaimed artist Shezad Dawood, presented over two venues in Penzance before touring internationally and includes an experimental film made in Morocco, New Dream Machine Project, and a new science fiction film, Trailer, alongside new textile and sculptural works. Crystal Ball is a series of 10 minute films by artists who have created new works that reflect the values of Olympism that will be presented as a contemporary art collection at venues such as De la Warr Pavilion for the London 2012 Festival and as a permanent collection exhibited in the Olympic Museum in the future.
Chris Tally Evans's Turning Points will feature six stories spoken in one voice from a visually impaired dancer, a young boy, a go-getting career woman, an Olympic runner, a Hollywood star and the artist himself woven together to enchant and inspire. Simon McKeown's Motion Disabled Unlimited records Paralympic body shapes and actions and uses 3D software to create large inflatable structures, as well as animations for presentation both on public screens and on smart phones.
Joel Simon's Macropolis is a short animated film in which a group of soft toys rebels and escapes from a factory to seek a new life among humans in the great outdoors. These films will be presented at the Southbank Centre as part of 'Unlimited' – a commissioning fund for disabled and deaf artists the London 2012 Festival.
The London 2012 Festival film programme will also see thousands participating in film projects showcasing the UK's emerging talent.
Shetland Film Festival, the UK's most northerly film festival, curated by Linda Ruth Williams and Mark Kermode, will present A Hansel of Film, a unique cinematic relay project for 2012. The arrival of the Olympic Torch in the isles will signal the start of a relay of film screenings around the UK, from Shetland to Southampton and back again culminating in an awards ceremony in Shetland on the last day of the Paralympic Games and London 2012 Festival. The festival is looking of films of no longer than five minutes from people of all ages.
The 'With One Voice' concert on 2 July at the Royal Opera House will feature short films made by arts groups who work with homeless people around the world. The films are selected by a panel including Christoph Warrick (Open Cinema), Philip Ilson (London Short Film Festival) and organizers from Streetwise Opera.
Thousands of young people are already participating in learning new skills thanks to the support of Panasonic and the National Lottery through the Olympic Lottery Distributor. Already 30 short films made by14-25 year olds from across the UK have been selected from two annual national award ceremonies to be screened at the iconic venues during the London 2012 Olympic and Paralympic Games through Film Nation:Shorts, presented by Panasonic and funded by the National Lottery through the Olympic Lottery Distributor.
There have been over 2,000 workshops across the UK as part of the initiative where young people have met professional film-makers and learned new skills using the latest state-of-the-art Panasonic equipment. London 2012 Festival organisers today confirmed that BFI Southbank will host the final Film Nation:Shorts Awards Ceremony on 4 July 2012.
Young people have until 2 April to submit a film of up to three minutes inspired by the Olympic and Paralympic values or the theme of 'Truce' to be in with a chance to see their films screened to millions on giant screens at the Games this summer. Entries for this final year will be judged by luminaries from the film world including BAFTA winners Mike Leigh, Asif Kapadia and BBC Film 2012 presenter Claudia Winkleman.
Children's BAFTA winner and Guinness World Record holding film The Itch of the Golden Nit is dreamt up by over 34,000 of children across the UK, brought together by Tate and the creative magic of Aardman Animation, with voiceovers by David Walliams, Vic Reeves, Catherine Tate and Miranda Hart among others, and funded by Legacy Trust UK and BP with support from the BBC. The film will be screened during the London 2012 Festival at Picturehouse Cinemas across the UK during a series of summer screenings at special family events.
Ruth Mackenzie, Director, London 2012 Festival, said: 'The film programme for the London 2012 Festival not only showcases the UK's leading talent but importantly, when the eyes of the world are on us, gives a platform for young and emerging filmmakers to showcase their work on a world stage.'
Asif Kapadia, BAFTA winning film maker, said: 'As a Hackney boy I'm delighted to have an opportunity to contribute to the London 2012 Festival and be part of the cultural celebrations taking place for the London Games. My film will explore the relationship between London and the Games, and I look forward to it receiving its London premiere in the heart of East London this June at the Hackney Picturehouse.'
Chris Fujiwara, Artistic Director, Edinburgh International Film Festival said, 'We're thrilled to be part of the celebration of the arts that will take place this year during the United Kingdom's largest nationwide festival ever. In hosting the world premiere of these four newly commissioned films, the Edinburgh International Film Festival is continuing its tradition of supporting British filmmaking. We're also continuing our relationship with superb filmmakers who have brought their work to Edinburgh in the past.'
Christine Langan, Head of BBC Films, said: 'It's with great pleasure and pride that BBC Films has been able to build on our wonderfully fruitful creative relationships with the brilliant auteur Lynne Ramsay and the innovative filmmakers at Vertigo; Max and Dania and James Richardson. With 'The Swimmer' and 'What If' we've been able to deliver two very distinctive films that attest to the depth and diversity of talent currently working in British film: an inspiration for the future.'
Tessa Ross, Head of Film4, said: 'It's exciting for the two public service broadcasters to be working in this way to co-commission, alongside the cultural Olympiad, some special pieces of work around the Olympics. We are delighted to be announcing that Asif is joining Mike, Lynne, Max and Dania to direct the final one of these four shorts, in a line-up that represents the tremendous variety and wealth of distinctive talent working in British filmmaking today.'
Heather Stewart, Creative Director BFI Programme said 'Hitchcock is one of the great artists of the 20th century. His contribution to world cinema is immense. The BFI is thrilled to be able to bring Hitchcock's early films to the London 2012 Festival; they are the foundation of his whole body of work and new audiences will be able to enjoy them for the first time ever in all their restored glory and with new scores from an incredible mix of British musical talent.'
Culture Minister Ed Vaizey said: 'Our brilliant film industry lies at the very heart of the UK's cultural landscape and it is fitting that the London 2012 Festival is celebrating our fantastic cinematic achievements with this exciting film programme.'
Images
Images of Asif Kapadia and film stills from London 2012 Festival film commissions can be downloaded here:
http://mm.gettyimages.com/mm/nicePath/locog?nav=pr165129731
Images from the Film Nation:Shorts Awards 2011 can be downloaded here:
http://mm.gettyimages.com/mm/nicePath/locog?nav=pr158570633
Images from the Film Nation:Shorts Awards 2010 can be downloaded here:
http://mm.gettyimages.com/mm/nicePath/locog?nav=pr144562588
Notes to editors:
For further information please contact the London 2012 Press Office.
About the Cultural Olympiad and London 2012 Festival
The London 2012 Cultural Olympiad is the largest cultural celebration in the history of the modern Olympic and Paralympic Movements. Spread over four years, it is designed to give everyone in the UK a chance to be part of London 2012 and inspire creativity across all forms of culture, especially among young people.
The culmination of the Cultural Olympiad will be the London 2012 Festival, a spectacular 12-week nationwide celebration bringing together leading artists from across the world with the very best from the UK, from Midsummers Day on 21 June and running until the final day of the Paralympic Games on 9 September 2012.The London 2012 Festival will celebrate the huge range, quality and accessibility of the UK's world-class culture including dance, music, theatre, the visual arts, fashion, film and digital innovation, giving the opportunity for people across the UK to celebrate the London 2012 Olympic and Paralympic Games.
Principal funders of the Cultural Olympiad and London 2012 Festival are Arts Council England, Legacy Trust UK and the Olympic Lottery Distributor. BP and BT are Premier Partners of the Cultural Olympiad and the London 2012 Festival.
London 2012 Games partners:
The Worldwide Olympic Partners who support the London 2012 Olympic Games and the National Olympic Committees around the world are Coca-Cola, Acer, Atos, Dow, GE, McDonald's, Omega, Panasonic, Procter and Gamble, Samsung and Visa.
LOCOG has seven domestic Tier One Partners - adidas, BMW, BP, British Airways, BT, EDF and Lloyds TSB. There are seven domestic Tier Two Supporters – Adecco, ArcelorMittal, Cadbury, Cisco, Deloitte, Thomas Cook and UPS. There are now twenty-eight domestic Tier Three Suppliers and Providers – Aggreko, Airwave, Atkins, Boston Consulting Group, CBS Outdoor, Crystal CG, Eurostar, Freshfields Bruckhaus Deringer LLP, G4S, GSK, Gymnova, Heathrow Airport, Heineken UK, Holiday Inn, John Lewis, McCann Worldgroup, Mondo, NATURE VALLEY, Next, Nielsen, Populous, Rapiscan Systems, Rio Tinto, Technogym, Thames Water, Ticketmaster, Trebor and Westfield.
There is one domestic Tier One Paralympic Games-only Partner, Sainsbury's and two domestic Tier Three Paralympic Games-only Suppliers, Otto Bock and Panasonic. The London 2012 Paralympic Games also acknowledges the support of the National Lottery.