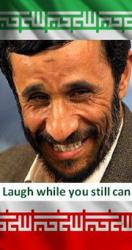 Laugh while you can at Iran, world, because once Iran does get the bomb, a few million less people and a few less countries will be laughing.
Somewhere in the Middle East (PRWEB) March 27, 2012
It has been announced the comedy troupe Iran- Laugh While You Can has developed a humorous Facebook page entitled strangely enough "Iran--Laugh While You Still Can." The intent of this Facebook page is to use such media as political cartoons, news video snippets, and often satirical commentary to get people to laugh at what has developed over the last decade into one of the most disturbing and dangerous issues facing the nation and the planet: the possession of nuclear weapons by Iran. The Founder of the comedy troupe says, "Humor unites people...it has a way of bringing people together. It is amazing to see how people interact on our site and maybe through spreading laughter we can resolve this very serious situation."
The profile of the "Iran--Laugh While You Still Can" page is dark in tone, however http://www.facebook.com/pages/Iran-Laugh-while-you-still-can/272233746183470:
"Due to a series of circumstances that are too long to recount here, Iran has become a focal point of the lives of people all over the world. Whether it is Iran's flagrant abuses of civil rights, its nuclear program, its use and abuse of oil prices or simply its hate-filled rhetoric, Iran is constantly in the news...Einstein's quote comes to mind here: 'I don't know what kind of weapons will be used in the third world war, assuming there will be a third world war. But I can tell you what the fourth world war will be fought with -- stone cudgels.' So laugh while you can at Iran, world, because once Iran does get the bomb, a few million less people and a few less countries will be laughing." explains a senior member of Iran Laugh While You Can who wishes to remain anonymous.
But for now, the world can all live in hope that the comedy troop that has designed this page is right, that through laughter more people will become aware of the very real threat facing our world, and in that awareness influence leaders of Western nations such as Israel, the United States, and their allies to intervene against the entity which is a very real, serious threat to life on planet Earth. How can people laugh at such a dark matter? Actually, the posts on the page uncover some absurd facts about Iran's behavior, that we almost must laugh so as not to go insane!
The great writer Mark Twain said, "The difference between writing fiction and writing non-fiction is that fiction has to make sense."
These are dark matters. Sometimes, a laugh is the best answer for something that's lurking in the darkness. Sometimes, laughter is the best medicine. Hopefully, the medicine offered for free at "Iran--Laugh While You Still Can" will be enough to sober us up, for if ever there was a time when an ounce of prevention was worth more than a pound of cure, that time is now--whether we need to prepare to stop World War III, or whether we need to learn that we've foolishly been overreacting to over-acting after all.
ABOUT "IRAN--LAUGH WHILE YOU STILL CAN"
This Facebook page has been designed and is run by Iran- Laugh While You Can, a comedy group dedicated to satire and humor concerning Iran as it is seen by the West in these times. A very large amount of content and engagement by people who find interest, comfort, and laughter in satire on Iran. All quotes are kept Anonymous to keep people safe from being targeted.