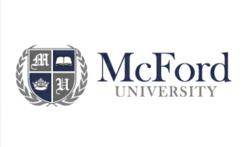 Bynum, TX (PRWEB) March 23, 2012
McFord University has a long and successful heritage of producing some of the best artists in the world. In order to celebrate this legacy of producing excellence in performing arts, McFord University announces its annual online arts festival which will be broadcasted online to our students and alumni from 7th-14th of April, 2012. The announcement was made by the Head of Public Relations, McFord University while briefing the media and press about the happenings in the festival.
We are looking forward to an extravaganza that will be created by our students belonging to different branches of performing arts and who are members of different art councils around the globe. We have received hundreds of entries of different kind of art forms from our students. All these entries will be featured in the online arts festival. Some of the best plays from artists like William Shakespeare and Charles Dickens will be screened online, along with pre recorded songs, dance performances, etc, all done by the students & alumni of McFord University in this festival. Students and alumni who are not taking part in the online arts festival can vote for the best art form they like, the one with most votes will win and winner's picture will be shared on our social media pages. The arrangements for the live broadcast of these celebrations are done exclusively by the McFord's administration in order to create ease and convenience for the students and alumni who will watch it all from home. So let us experience a week of fun filled activities only at McFord University. Don't forget to be a part of it!" said the Head of Public Relations in the ending note of the announcement.
When some of the students who were watching the live broadcast of the announcement on their computer screens contacted and asked about their views on the online arts festival, they said; we are totally excited and looking forward to it. It's an event by our university and we look forward anxiously to the performances that we will get to see in it.
About McFord University
McFord University is an accredited online university that was established with a mission of spreading quality education to each and every individual of this world. This is the reason tuition fee structure of McFord university is extremely pocket friendly and anyone can apply for an accredited professional degree and complete it with ease. McFord University also offers profound presidential scholarships to its students that let students save up to 90% of their total program fee. So in order to choose from more than 71 majors offered at McFord University, log on to its official website and choose from a broad range of industry preferred majors and start your education right away.