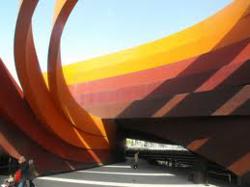 Denver, Colorado (PRWEB) March 28, 2012
Experience Israel from a unique perspective on a one-of-a-kind trip that's been hand-crafted just for the Mizel Museum. A renowned Israeli curator and art consultant will lead us in the exploration of Israeli art, culture, historic and off-the-beaten-path destinations. We'll experience private art collections and studios, enjoy vibrant cinema and music, and tour historic cities and villages. We'll meet established and emerging artists, check out local art scenes, get creative with art workshops and relax in Israel's finest boutique hotels.
Places visited will include the Holon Design Museum in Tel Aviv, the Nalaga'at Center, Old Jaffa and the Jaffa Salon for Palestinian Art, Mt. Carmel, the Umm el-Fahem Art Gallery, Ein Hod, Upper Galilee, the Gottesman Etching Center, Zefat (the City of Mystics), Mt. Heron, Jezreel Valley and Mount Gilboa, Jerusalem, the Israel Museum, Bezalel Academy of Arts and Design and numerous art galleries, homes of artists and collectors and accommodations in the finest boutique hotels.
An Information session will be held Thursday, April 2, 12:00-1:00pm at the Mizel Museum, 400 S. Kearney Street, Denver. RSVP to Georgina Kolber at gkolber(at)mizelmuseum(dot)org or call (303) 749-5014.