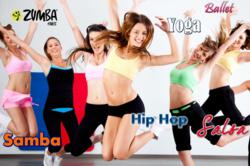 The studio focuses on children during the day...and for adults, the studio offers everything from Yoga to Belly Dancing...
West New York, NJ (PRWEB) March 24, 2012
What does one get when they combine a Cuban-born Salsa dancing enthusiast with a Dominican-American attorney/former financial industry executive? An incredibly talented and creative Caribbean duo with diverse backgrounds ready to take on the world. Geovany Ruiz and Jessie Ferreira are both hoping to live the American Dream on their parents' behalves. The dynamic duo recently took on the exciting role of business owners, dedicating themselves to providing a diverse blend of dance and fitness offerings in West New York, NJ. Welcome to JG Kinetics!
Born in Cuba, Geovany immigrated to the United States at the age of 13. He and his parents settled in Union City, NJ, where his parents and grandmother still live today. He quickly adapted to and became immersed in the American culture, learning English at a rapid pace and engaging in the same typical endeavors as other boys his age – playing sports, wooing local girls and playing the occasional video games. As he reached adulthood, Geo developed a strong interest in Salsa dancing. His love for dancing and desire to advance his skills brought him to a local studio, where he was eventually asked to stay on as an instructor. In 2008, it was at the studio where he met and fell in love with one of his students, Jessie Ferreira. The chemistry was instantaneous and the two proclaimed their love for each other in a very short period of time.
The daughter of two Dominican immigrants, Jessie grew up in Washington Heights in New York City. She dedicated herself to studying and working arduously. While working full time, Jessie earned both her Bachelor's and law degree. She has worked as a financial industry executive for over 10 years, but has grown tired "literally" of the daily grind. Jessie was diagnosed with Multiple Sclerosis in 2006, a debilitating neurological illness while pursuing her law degree. Looking to leave the exhausting corporate realm, Jessie decided to pursue a more flexible and fulfilling business venture. With her beloved's support, the two formed JG Kinetics in West New York, NJ http://www.jgkinetics.com.
With Geo's background in dancing and Jessie's desire to do something good for the community, the entrepreneurial-minded couple decided to open a business offering a diverse combination of dance, fitness and creative arts classes in an under-served area. The studio focuses on children during the day offering parent participation classes such as mommy/daddy and me and toddler tumbling and an after school program featuring ballet, jazz, hip hop, zumbatomic, creative arts and flamenco. For adults, the studio offers everything from Yoga to Belly Dancing and boasts some of the best instructors in the area for Zumba and Salsa! Launched this past week, the studio has already seen an influx of customers interested in its many offerings. The studio offers online enrollment, a true convenience for students and will soon include nutritional counseling among its many offerings. Sure to be a hit in the neighborhood, this studio truly offers residents and neighbors a much needed service.
About the company:
Founded in 2012, JG Kinetics Studio in West New York, NJ, is a new self enrichment center providing a diverse blend of dance and fitness classes for all age groups. The studio touts among its many talented staff members, Zumba instructor Wilson who has been featured on Good Day New York and Telemundo, Belly Dancing instructor Jamilah who has worked on private belly dancing events for such productions as Sex and the City 2, and children's instructor Sherry who has choreographed several dance styles throughout the tri-state area.