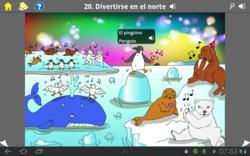 "It's an honor to be featured by the Trust Center for Entrepreneurship . . ."
Boston, MA (PRWEB) March 25, 2012
Noyo, the Boston-based company that made a splash with its first language learning app for tablets earlier this year, is being honored by the Martin Trust Center for MIT Entrepreneurship this week. The organization has named Noyo the MIT Company of the Week.
"It's an honor to be featured by the Trust Center for Entrepreneurship," said CEO, Ted Chan. "Folks like Bill Aulet, Ed Roberts, and Justin Adelson have been both a big help and inspiration to us as we've built Noyo."
Noyo may be new to the language learning apps scene, but Chan has been creating educational mobile apps for years in his role as CEO of Upward Mobility, which provides high-quality, low-cost test prep materials. Along with Mike Sullivan, a passionate career educator, Chan has spun this knowledge into an intuitive new platform that serves as the base for Noyo apps.
Noyo language learning apps re-enforce vocab learning by linking words to cheerful, engaging scenes, longer phrases, professional audio, and assessment questions. The user experience is intuitive—just touch on scenes to learn vocab items—but beneath the simple exterior is a structured, thorough curriculum for vocabulary learning.
The company recently released Noyo Spanish and plans to hit the ground running with apps for French, Portuguese, Mandarin, and ESL in the near future. By providing a low-cost, yet thorough, language-learning app for tablets, Noyo hopes to provide students and educators with a tool for any-time learning and to make vocabulary learning less rote and boring.
"We believe strongly that once a learner has an arsenal of new vocabulary, they begin to grasp the concepts of acquiring a new language," said Sullivan. "Our goal with Noyo is to ignite a fire in a student and instill the desire to become a lifetime language learner."
Noyo Spanish is currently available on for the iPad, Android tablets, and the Kindle Fire.