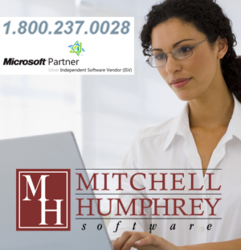 It also provides a number of time saving features while staying true to Mitchell Humphrey's design philosophy.
Saint Louis, MO (PRWEB) March 26, 2012
Mitchell Humphrey & Co., a Microsoft Silver ISV, recently announced its newest enhancements to the powerful data analysis, ad hoc reporting, and budgeting software tool, known as FMS Exec.
FMS Exec is a financial management software tool designed to capture and examine financial data more effectively than ever before. It allows public and private sectors to access data instantly and provides them with a bidirectional compass to stay on top of accounting operations.
Supported on Windows 7, FMS Exec has shown to improve the experience of everyone, from the periodic casual user to the technology savvy user. Regardless of the type of user, this tool becomes beneficial when creating budgets and downloading the previous year's actual data into a predefined Excel budget template.
Mitchell Humphrey & Co. designed FMS Exec for all users to conveniently prepare journal entries in Excel for upload into their FMS II software suite. It also simplified the downloading of data from FMS into Excel and uploading Excel data into FMS. This provided their clients with the capability to easily upload data from external, non-FMS systems. For example, users are able to import payroll details, including any statistical data, from an external payroll system directly into FMS II, and multiple users can share information simultaneously.
"FMS Exec provides the data for users to perform 'what-if' scenarios in Microsoft Excel and to help intelligently predict bottom-line outcomes," stated Kim Schaefer, President and COO of Mitchell Humphrey. "It also provides a number of time saving features while staying true to Mitchell Humphrey's design philosophy."
Developed in Windows Presentation Foundation (WPF) which creates rich, interactive applications, FMS Exec focuses on providing powerful functionality combined with a pleasant user experience. Contributing to the user experience is the ease with which users are able to integrate with their Excel spreadsheets. All they have to do is place and select the object on their spreadsheet, which then automatically connects to and retrieves data from Mitchell Humphrey's FMS II Suite. For more information about Mitchell Humphrey's FMS Exec tool, call (800) 237-0028 or email sales@mitchellhumphrey.com.
About Mitchell Humphrey
Since 1977, Mitchell Humphrey has been providing software and services to clients in both the public and private sectors through their financial management systems and their web-based government product line,FastTrackGov®. Today, clients across North America benefit from our solutions in citizen services, accounting, human resources/payroll, community development, and cashiering.
Learn more about Mitchell Humphrey by visiting our web sites at http://www.mitchellhumphrey.com and/or http://www.fasttrackgov.com.