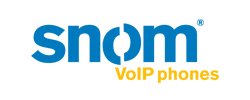 "By integrating Total Connect with the snom UC portfolio, SMBs can take full advantage of unified communications like never before."
- Mike Storella, snom COO
Woburn, MA (PRWEB) March 26, 2012
snom technology AG, a leading developer of IP desktop phones and IP communications solutions, today announced a partnership with Chinook Communications, a Seattle-based hosted IT services provider for small and medium-sized businesses (SMBs), to deliver a new cloud-based integrated IP telephony and unified communications (UC) service called Total Connect. The Chinook solution, the first production release of Microsoft-supported Lync Server 2010 Multitenant Pack for Partner Hosting, will utilize snom UC edition business phones as the preferred endpoints within its cloud hosted Microsoft Lync service.
snom is debuting Chinook's new Total Connect hosted unified communications and telephony solution with snom UC edition desktop phones this week in Orlando, FL at Enterprise Connect 2012 (booth #737) and at the Channel Partners Conference and Expo (booth #541) in Las Vegas, NV.
"With Microsoft's endorsement, we recognize snom is at the forefront of building standards-based phones designed to work in a cloud communications environment that are fully compatible with both hosted UC and VoIP solutions," said Steve Schwartz, President of Chinook Communications. "Successfully delivering business-class telephony service from the cloud takes a unique phone system and a device endpoint, and snom is ahead of the curve with its Lync-optimized devices required for end-user voice access. The snom UC portfolio is the perfect choice for desktop phones to complement our Total Connect offering."
Chinook's new bundled service, called Total Connect, features advanced collaboration and communication tools and a complete range of Microsoft Lync Server 2010 voice communications capabilities. The hosted solution provides SMBs best-in-class phone, conferencing, IM and email services as an integrated offering. Chinook has selected the snom UC portfolio, featuring desktop phones Qualified for Microsoft Lync. The entry-level snom 300 UC edition, snom 370 UC edition and the advanced snom 821 UC edition are the preferred endpoints for its Total Connect service.
The Chinook Total Connect pay-as-you-go bundle delivers both phone service and collaboration tools from a single source. The bundle includes the complete range of Microsoft Lync Server 2010 voice communications capabilities and more:

Hosted Microsoft Lync-based phone system
Presence
Instant messaging
PSTN integrated audio conferencing
Web-based audio/video conferencing
Application sharing
Microsoft Exchange 2010 for email and unified messaging
Secure document management with Microsoft SharePoint 2010
"Chinook's Total Connect package provides SMBs with a rich enterprise-level service that allows these organizations to take advantage of the advanced productivity enhancing capabilities of Microsoft Lync but deployed as hosted service," said Mike Storella, Chief Operating Officer, snom technology Inc. "By integrating Total Connect with the snom UC portfolio, SMBs can take full advantage of unified communications like never before."
snom UC edition desktop phones round out the Total Connect offer as the primary interface for voice applications. The entry-level snom 300 UC edition, snom 370 UC edition and the advanced snom 821 UC edition suit any business requirement. The snom 300 UC edition is a good fit for general office workers, while the 370 UC edition, with its large graphical, high-definition display, is ideal for business executives. The advanced snom 821 UC edition features a large, high-resolution color display, an integrated XML browser, wideband audio for enhanced audio quality and the built-in Gigabit Ethernet switch for the latest network installations.
For more information about snom in the Americas, please visit us at http://www.snomchannel.com; follow us on Twitter; like us on Facebook; or join our LinkedIn group.
About snom
snom technology AG develops and manufactures VoIP telephones and related equipment based on the IETF open standard, SIP (Session Initiation Protocol). Recognized for its high-quality, customizable and cost-effective business solutions, snom is also differentiated by the company's history in the VoIP industry and its dedication to high security standards. All of snom's products, from desktop phones to IP PBXs, are designed to be fully interoperable with leading communications equipment vendors. snom customers benefit from the interoperability and flexibility that the snom telephones offer, including plug-and-play integration and universal compatibility with any SIP-based telephony platform. The snom UC edition portfolio of desktop phones featuring snom 300 UC edition, snom 370 UC edition and the snom 821 are the first SIP phones which are officially tested and qualified as interoperable with Microsoft Lync™ by Microsoft.
Founded in 1996 and headquartered in Berlin, Germany, snom technology AG also has offices in Italy, France, the United Kingdom and the US. For more information on snom, please visit http://www.snom.com
About Chinook Communications
With Chinook Communications, small and medium-sized businesses can have best-in-class phone, conferencing, email, collaboration, and other business services at a fraction of the cost of purchasing the hardware and licenses on their own. We offer enterprise-grade technologies to our customers as web-based services, enabling your IT team to focus on strategic operations instead of maintaining servers. If you want to improve your business operations while reducing costs, Chinook Communications is here to help. We are committed to reducing your IT overhead and providing your business with the services you need to succeed. Learn more at http://www.chinookcommunications.com.
*All product and company names herein may be trademarks of their registered owners.