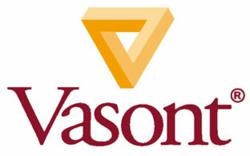 The integration of oXygen XML Editor with the Vasont CMS and Vasont WebLNX offers an efficient and powerful solution for our enterprise users.
Emigsville, PA (PRWEB) March 26, 2012
Vasont Systems, a top provider of component content management solutions and data services, today announced the availability of its integrations between the Vasont® Content Management System (CMS) and Vasont WebLNX® products with Syncro Soft's oXygen® XML Editor. Syncro Soft Ltd. is a provider of software for XML technologies and single source publishing. These direct integrations between the Vasont CMS and Vasont WebLNX with oXygen provide clients with more efficient methods of editing and reviewing XML content and managing editorial cycles on the desktop or via the Web.
The Vasont CMS integrates tightly with oXygen through its Vasont Universal Integrator (VUI) Extension for both perpetual license and SaaS (software as a service) models. Designed so that it is easy for non-technical writers to initiate and use, the VUI Extensions integrate the Vasont Content Management System's solid functionality with leading XML editing tools. The VUI unifies the writing and publishing process by providing an editorial interface so that authors and editors can access the Vasont CMS's functionality from the main menu of their favorite authoring tools. Using the oXygen VUI extension, users can access their workflow tasks from the Vasont CMS to get their assignments through the oXygen interface. They can easily search for textual or multimedia content in the Vasont CMS and reuse it in documents that are edited in oXygen. Users can also retrieve templates from the Vasont CMS to create new documents in a consistent format. Once editing is completed, the content can be loaded back into the Vasont CMS in one step for further management of reuse, audit trails, translation and publishing.
In addition, oXygen is integrated with Vasont WebLNX, an easy-to-use website for contributors to make content submissions and review previously submitted content. Vasont WebLNX makes working with structured content simple for writers who are not familiar with XML. As a Web-based product, it also provides a collaborative, convenient environment for working with contributors and subject matter experts located around the world while keeping projects on schedule.
"By strengthening the ties between Vasont and oXygen, we've made the editorial process much smoother and more user-friendly for our mutual clients," said Richard Schiding, President of Vasont Systems. "Through our extension, we are pleased to complement the editorial process with Vasont's strong component content management capabilities."
"For Syncro Soft, it is imperative to build strong relationships with the most relevant technology providers in the content management industry. The integration of oXygen XML Editor with the Vasont CMS and Vasont WebLNX offers an efficient and powerful solution for our enterprise users," says Stefan Vasile, CEO, Syncro Soft.
The Vasont CMS makes it easy for organizations to manage their multilingual technical documentation and business information. The system's comprehensive single-source functionality stores content once, ensuring accuracy and increasing the efficiency of repurposing content to multiple media formats while managing the workflow and the overall business process of creating and publishing content.
About Syncro Soft
Syncro Soft develops the industry-acclaimed oXygen XML Editor, facilitating teams in small businesses, Fortune 500 enterprises, universities, government agencies, and international organizations in authoring documents, publishing in different formats, collaborating with team members, and managing content. At the same time, oXygen enables XML developers to develop advanced style-sheets, edit schema, generate documentation, debug files, and connect databases. It is the only tool that supports all XML schema languages. It provides the widest coverage of state-of-the-art XML technologies; complies with standards of World Wide Web Consortium (W3C) and of other organizations; and enhances productivity through an intuitive and innovative authoring and development environment. For more information visit http://www.oxygenxml.com
About Vasont Systems
Headquartered in Pennsylvania, Vasont Systems is a provider of XML content management software and data services, backed by more than 60 years of experience in the information management and publishing industry. Its Vasont® content management system enables organizations to manage and store their multilingual content once for multichannel delivery. Fortune 1000 companies and organizations from industries including manufacturing, technology, publishing, and healthcare use Vasont to manage and produce multilingual technical documentation, training programs, and reference materials. Vasont® is a registered trademark of Vasont Systems.