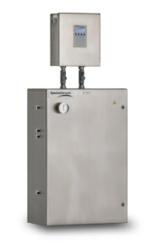 Houston, TX (PRWEB) March 26, 2012
SpectraSensors will participate in the 24th Ethylene Producers' Conference in Houston, Texas on April 2 – 5, 2012.
Greg Lankford, Business Development Manager of Natural Gas Processing, LNG and Process at SpectraSensors, is presenting a paper on Thursday, April 5 at 9:35 am. Lankford brings over 30 years of experience in the Online Process Analytical Industry.
Lankford will discuss ethylene purity verification. The reliable sub-ppm measurement of Trace Ammonia (NH3) and Trace Moisture (H2O) with online TDL analyzers will be addressed in this presentation.
Attendees can visit the SpectraSensors' booth to learn more about their TDL Ethylene Suite for ethylene purity measurements and acetylene converter optimization.
More information: http://www.spectrasensors.com
Ethylene Producers' Conference: http://aiche.confex.com/aiche/s12/webprogram/T4.html
About SpectraSensors, Inc.
SpectraSensors is a leading manufacturer of optically based moisture analyzers and H2S analyzers for analytical process markets. SpectraSensors uses Tunable Diode Lasers Absorption Spectroscopy (TDLAS) in an array of products such as Ambient Air Monitoring Analyzers, Moisture Analyzers (Hygrometers) and Gas Analyzers for Natural Gas Pipelines and Processors, Petrochemical Refineries and Chemical Companies.
SpectraSensors Gas Analyzers measure: Moisture (H2O), Carbon Dioxide (CO2), Hydrogen Sulfide (H2S), Ammonia (NH3), Acetylene (C2H2), Oxygen (O2), Hydrocarbon Dewpoint and more.