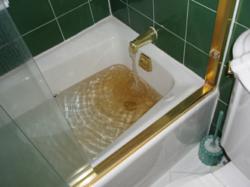 Rusty water is just one of the things that corrosion can bring.
Seattle, WA (PRWEB) March 28, 2012
For the past two years, Brenda Wood has been enduring the unpleasant effects of rusty water in her hometown at Royal Drive, Jackson Missouri. According to her, she and her husband have already spent $1700 because of the rusty water. After complaining about it, the city promised they would work to solve the problem.
A report from semissourian.com said that an old and corroded cast iron water line might be causing the rusty water supply. And though it has been a difficult problem as said by Jackson city administrator, Jim Roach, he added they wouldn't stop until it is resolved.
To start the investigation about the said problem, the city issued a boil-water order last March 9. In addition, the city plan to dig deep down to check the water delivery system closely. And, to get that done, water supply will be turned off on several residential areas as Royal Drive, East Jackson Trail and Shady Lane.
Read below the excerpt of the report Jackson Works on Rusty Water Problem from MyRustRemoval.com:
Rusty water is an old problem in Jackson Missouri. One resident opened up about enduring its bad effects for the past two years already. And though the problem is one quite difficult to solve, the city administrator promised that they will work to end it.
The rusty and hard water supply in Jackson has been a pain to the affected residents in several ways. It has been ruining their clothing and appliances. Not to mention, it has also been adding more to their expenses. Brenda Wood of Royal Drive Jackson is one of those residents who experiences exactly those things. According to her, she and her husband have already spent $1700 because of the rusty water problem.
An old and corroded cast iron pipe was the suspected cause of the rusty water. On Monday, a boil-water order was issued by the city as its initial step of the investigation of the problem. In addition, turning off of the water supply was also scheduled so the city can dig deep and check on the water system.
Jackson city administrator Jim Roach promised the city would work to solve problems with damaging rust and hard water reported by a handful of residents.
Brenda Wood of Royal Drive in Jackson showed towels ruined by rusty water and a water filter that should have lasted six months that had to be replaced after only two weeks to city officials in the board of aldermen meeting Monday night.
Wood said she and her husband have spent around $1,700 over the past two years replacing and repairing appliances, buying water and replacing ruined clothing. When they have contacted the city, she said, they have been told the city is "checking" on the problem.
Read more about Rusty Water Hit Jackson Missouri at: http://www.myrustremoval.com/jackson-missouri-troubled-rusty-water.html
Rusty water is just one of the things that corrosion can bring said MyRustRemoval.com. There are many other problems it can cause hence immediate rust removal treatment must be implemented, the site added.
However, rust removal must be safe apart from effective the site believes. And so, it advised all rust and rust stain sufferers to use a product made with organic ingredients. The site said it is among the best rust removal products that consumers can get as it is free of any harmful chemicals.
Find out what that safe rust remover is. Get a free sample of it today at http://www.myrustremoval.com.