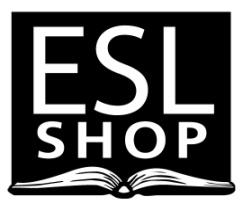 Supporting teachers and learners of the English language worldwide
Romulus (MI) (PRWEB) March 28, 2012
In support of participants in this year's International TESOL Convention and English Language Expo taking place in Philadelphia March 28 -31, ESL Shop is offering extended conference pricing on all online orders. With a database of over 20,000 titles, it is the hope of ESL Shop to connect English language teachers worldwide with the materials they need to best serve their learners.
This year, as in years past, TESOL, the largest organization in the world focused exclusively on English language teaching, is offering sessions on a broad range of language teaching methodologies. ESL Shop is highlighting related resources in support of this year's sessions. For example, there will be presentations on drama and improvisation. This is becoming a very popular topic, perhaps due to the fact that recent brain-based research shows that the integration of motivation, imagination, movement, and emotion can vastly accelerate second language acquisition. Resources like Drama Techniques and Dialogue Activities from the wonderful collection of Cambridge Handbooks for Language Teachers (among many others) are a great support for teachers exploring these approaches.
More and more teachers are looking for resources to meet the needs of English language learners in the mainstream classroom to support learning across the content areas. ESL Shop has a number of new and interesting titles in this category. New student resources like the Oxford Math and Science Dictionaries, and the Cornerstone and Keynote series from Pearson Longman ESL are very effective content area resources. Teacher resources like 120 Content Strategies for English Language Learners 2e by Jodi Reiss (Pearson Education), Every Teacher's Toolkit, Closing the Acheivement Gap for English Learners by Karen Dawaguchi (Pearson Longman), and, although published back in 2002, Scaffolding Language, Scaffolding Learning by Pauline Gibbons and Jim Cummins (Pearson Education), is still as relevant as ever.
There are many exciting and effective resources available for teaching the English language. For non-fiction content featuring National Geographic Digital Media there are many new and intriguing selections. In particular ESL Shop endorses the new Pathways series for young adult and adult learners studying in an academic stream. Pathways is a cutting edge listening and speaking series with current and relevant nonfiction topics and effective strategies for developing critical thinking skills. Other materials from Heinle and National Geographic Digital Media include Reading Power, The Footprints Reading Library, and World English.
As one final recommendation for those teaching cross-cultural communication and Japanese Culture in particular, ESL Shop suggests a beautiful little book of short stories called Pure Heart, Simple Mind by Charlie Badenhop (a Seishindo Publication). This is also a marvelous pick for anyone wanting to contemplate the beauty of life and appreciate the wisdom we share.
Please contact ESL Shop with questions on these or any other language teaching resources. ESL Shop is staffed by experienced language teachers who are always happy to help. If placing an order please indicate TESOL 2012 and a 20% discount will be applied to your order from March 27th through April 10th.