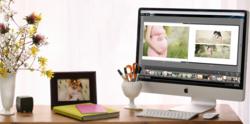 "We recognize professional photographers have varying product needs for their businesses," says Brandon Hedgpeth, marketing director for Black River Imaging, "That is why we offer a wide variety of albums, books and cards."
Springfield, MO (PRWEB) March 27, 2012
Black River Imaging, an imaging lab for professional photographers, has updated their Cascade design software to include cards, promotional materials, albums and books. The software was first introduced in early 2011 to allow photographers to easily design album layouts for the company's five lines of flush mount photo albums. The addition of the card layout feature is the first of several updates that the company is planning for 2012.
"We recognize professional photographers have varying product needs for their businesses," says Brandon Hedgpeth, marketing director for Black River Imaging, "That is why we offer a wide variety of albums, books and cards."
The Sierra Album, Black River Imaging's newest photo album, features a metal print photo cover with a 13.5x9 inch layout. The cover is available in four different metal print finishes, Metallic Fade or Vibrant and glossy or matte. The Sierra photo album is at the heart of Black River Imaging's couture collection.
Black River Imaging's Mosaic photo album, boasts luxurious single and duo leather cover designs. Custom crafted by hand, the Mosaic flush mount photo album is a personal style statement for a bride wanting a custom wedding album.
Brides looking for a modern heirloom might prefer the Echo which allows the photographer to design a one-of-a-kind photo cover using a favorite wedding image. The cover image can be printed on a canvas texture or smooth and is protected by a laminated finish.
The Tuscany photo album line has two styles: The Classic photo album and the Contemporary photo album. The Classic photo album series features tucked corners, a padded cover and a library spine. Folded corners, an unpadded cover and a coffee table book spine define the Contemporary photo album series.
Acrylic faced photo album, Glacier, adds a feeling of dimension to the cover image. A full professional photo print is displayed under clear acrylic and framed by black leatherette material that wraps around the spine and continues to the back of the photo album.
Cascade version 1.4 is now available for download at:http:// http://www.blackriverimaging.com/order-cascade.asp. The software is free to registered Black River Imaging customers.
Black River Imaging helps professional photographers and those who love photography bring their creativity to life in hand made photo albums, professional photo printing, press printing, gallery wraps, metal prints, and other beautifully crafted photographic products. You can learn more about their products and services at http://www.blackriverimaging.com.