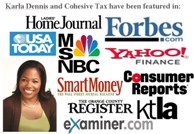 We got our federal tax refund check via mail last week and it's a beautiful thing. I want to thank you and your team for taking good care of our tax planning & processing needs ... it was worth every penny we spent. -Smriti Gurung - CA
(PRWEB) March 23, 2012
This is an announcement of a webinar replay of an teleconference given by Karla Dennis, the nation's foremost financial and tax expert.
Join her for this web conference, where she goes into detail on some of the steps needed to make the current year a successful one in terms of financial strategies, while also learning how to take the steps to reduce taxes. The information and tax strategies she has shared, have helped save thousands of dollars for so many.
In the midst of a busy tax season, get an inside look into the mind of a tax guru as she disseminates the information anyone needs to come out ahead in a complicated tax scenario. This information is being made available to the public at no charge, due to the importance of this information during tax time, and early enough in the year for people to be able to begin planning financially.
What this means to every attendee:
The goal of this is to educate and inform. Anyone can learn to take the information from an expert and apply it to their tax filing, as well as their financial situation for the rest of the year.
The invitation is open to anyone who hasn't had the pleasure of hearing Karla speak on her specialty.
Click Here To Register For The Webinar.
Karla Dennis is the Founder and CEO of Cohesive Tax, which is a tax preparation firm. Karla Dennis is actively sought as a tax expert by the media and has been quoted by Smart Money, CNBC, Consumer Reports and MSNBC. She actively speaks to various business leaders, executive organizations, trade groups, community factions and civic gatherings and area Chambers of Commerce.