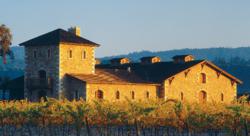 Sattui also secured three platinum medals, six additional gold medals and eighteen silver medals. This astounding performance captured the coveted Winery of the Year title
St. Helena, Napa Valley (PRWEB) March 25, 2012
The 19th annual Monterey Wine Competition announced that V. Sattui Winery was named Winery of the Year at the competition held on March 3 and 4, 2012, at the Salinas Valley Fairgrounds in King City, California.
"For the second year in a row, V. Sattui Winery was named Winery of the Year," explains Competition Director Bob Foster. "Sattui captured an amazing 24 medals. Among the highlights was an award for the best Cabernet Sauvignon of the competition (2008 Napa Valley Cabernet Sauvignon, $35). Sattui also secured three platinum medals, six additional gold medals and eighteen silver medals. This astounding performance captured the coveted Winery of the Year title," he adds.
"Needless to say, we're greatly honored," states Winery President Tom Davies. "This is the second time we've been named Winery of the Year this year alone," pointing out that V. Sattui also was awarded 2012 Winery of the Year status by the Winemaker Challenge International Wine Competition in February.
"It's a testament to our winemaking team, vineyard managers and growers that we're able to consistently make so many wines so well," remarked Davies. "Our guests and fans have known this for a long time, but it's also nice to do so well in competitions among our peers. It energizes us to do even better in the future."
The Monterey Wine Competition drew 814 entries from eight different countries. Winning wines will be showcased at the Monterey Wine Competition Grand Tasting on May 17, 2012, the opening night of the Salinas Valley Fair in King City, California.
About V. Sattui Winery:
V. Sattui makes over fifty different wines which are sold exclusively from the winery. In the last decade alone, V. Sattui was awarded "Winery of the Year" at the 2007, 2006 and 2004 California State Fairs, "Best Winery in the Western U.S." at the 2009 and 2005 Critics Challenges, "2011 Best Winery" by the San Francisco Bay Guardian and "Winery of the Year" at the 2012 Winemaker Challenge along with twice named Winery of the Year at the Monterey Wine Competition in 2011 and 2012.
Founded in 1885 by Vittorio Sattui, today V. Sattui Winery is the only winery in Napa Valley with its own extensive deli offering house-made prepared foods from salads to charcuterie to pastas, pizza, and barbecued fare and over 200 cheeses from around the world. Visitors can assemble a picnic and enjoy it outdoors under the centuries-old oak trees on the winery grounds.
V. Sattui Winery is located 1.5 miles south of St. Helena at 1111 White Lane; the winery is open seven days a week from 9:00 a.m. to 6:00 p.m. (Summer hours); no reservations required.