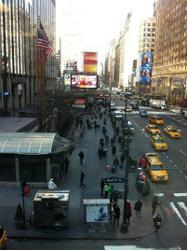 Our new integration competency center will assure our financial services clients that our expertise extends beyond just business processes and integration technologies into the industry as well.
GAITHERSBURG, MD (PRWEB) March 26, 2012
GXS, a leading provider of B2B integration services, today announced that it has opened a Midtown Manhattan office to support its continued expansion into the financial services industry. The New York office will feature an integration competency center specifically designed to meet the needs of financial services clients. The office, located at 370 Seventh Ave, Suite 320, is within a few hundred feet of the Madison Square Garden entertainment complex and the Penn Station transportation hub.
GXS's suite of cloud-based services simplify the way financial institutions exchange data related to electronic payments, securities transactions and international trade with their corporate clients. As an increasing number of commercial banks, payment processors and global custodians seek to enhance the flexibility and agility of their integration capabilities, Financial Services has been one of GXS's fastest growing industry segments. More than 250 financial institutions across the globe utilize GXS's B2B integration solutions to enhance their service delivery capabilities to tens of thousands of corporate clients.
"Dubbed the Silicon Alley in the late 90's, New York's recent announcement to invest in a two million square foot Applied Science and Engineering campus on Roosevelt Island will undoubtedly attract an even greater number of technology professionals," said John D'Apolito, vice president of GXS service delivery for the financial services industry. "A Manhattan presence gives us access to this large talent pool for banking and securities professionals and helps us retain the top industry talent to better serve our client's needs. Our new integration competency center will assure our financial services clients that our expertise extends beyond just business processes and integration technologies into the industry as well."
With GXS's experience in the cash management, commercial finance, securities processing and payment cards sectors, the company typically not only reduces the cost but enhances the speed and quality of integration projects. Its Managed Services support connectivity over FIX networks, SWIFT or secure IP protocols; mapping to EDI, XML and ISO 20022 standards; ERP integration to SAP and Oracle; and 15 languages.
About GXS:
GXS is a leading B2B integration services provider and operates the world's largest integration cloud, GXS Trading Grid®. Our software and services help more than 400,000 businesses, including 72 percent of the Fortune 500 and 23 of the top 25 supply chains, extend their partner networks, automate receiving processes, manage electronic payments, and improve supply chain visibility. GXS Managed Services, our unique approach to improving B2B integration operations, combines GXS Trading Grid® with our process orchestration services and global team to manage a company's multi-enterprise processes. Based in Gaithersburg, Maryland, GXS has direct operations in 20 countries, employing more than 2,400 professionals. To learn more, see http://www.gxs.com, read our blog at http://www.gxsblogs.com, follow us on Twitter at http://twitter.com/gxs and join us on LinkedIn at http://www.linkedin.com/company/gxs. You can also access our public filings with the Securities and Exchange Commission at http://www.sec.gov/edgar.shtml.
FORWARD-LOOKING STATEMENTS
This press release may contain "forward-looking statements." All statements, other than statements of historical facts that address activities, events or developments that the company expects, believes or anticipates will or may occur in the future are forward-looking statements. These forward-looking statements are affected by risks, uncertainties and assumptions, including but not limited to those set forth in the company's public filings with the Securities and Exchange Commission, including its Annual Report on Form 10-K and its Quarterly Reports on Form 10-Q. Accordingly, actual results or outcomes may differ materially from those expressed in the forward-looking statements. You should not place undue reliance on these statements and the company undertakes no obligation to update or revise any forward-looking statements to reflect events or circumstances that may arise.
All products and services mentioned are trademarks of their respective companies.