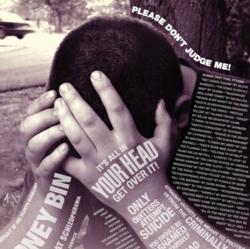 Stigma associated with mental illness results in shame and prevents people from seeking the help they need.
San Antonio, Texas (PRWEB) March 26, 2012
The professional team at HealthyPlace.com strives to bring the latest, most accurate, and comprehensive mental health information to its reader community. But in addition to this primary goal, they are determined to take action toward greatly reducing and eventually eliminating the stigma of mental illness. In an effort to build public awareness about the prevalence of mental health disorders and the discrimination that sufferers often endure, HealthyPlace.com asks people to share their stories about dealing with mental illness stigma.
Those interested in contributing their mental health stigma experience can visit the HealthyPlace Mental Health Experiences page and follow directions there for recording their stories directly on the website. They have embedded a special recording application on the page, so people can share their experiences using their computer's microphone. A team member screens all messages within 24 hours and publishes them on the HealthyPlace website. Instructions warn participants that they will only share stories that do not include personally identifying information, such as full names, phone numbers, or email addresses. Those who do not have a computer microphone, or don't feel comfortable with the recording application, can call the special HealthyPlace toll-free number, 1-888-883-8045, and record their experiences on the phone or they can share their story in writing.
The news media, as well as Hollywood movies and television shows, deepen mental illness stigma in the western world by perpetuating negative stereotypes of people with mental disorders. "The stigma associated with mental disorders causes people to feel shame about their mental illness and thus prevents them from seeking the help they need," explains HealthyPlace.com President, Gary Koplin. Despite efforts to normalize public perception of mental illness through public campaigns and celebrities publicizing their own mental health battles, a strong stigma remains. But researchers at Indiana University and Columbia University report at least some progress in that they see an increase in public acceptance of genetically-based neurobiological explanations for mental illness. HealthyPlace Medical Director, Dr. Harry Croft adds, "Educating the public about the nature of mental illness and the importance of encouraging sufferers to seek help is a critical step toward ending the stigma. HealthyPlace is committed to this effort."
About HealthyPlace.com
HealthyPlace.com is the largest consumer mental health site on the net with more than a million unique monthly visitors. The site provides comprehensive information on psychological disorders and psychiatric medications from both a consumer and expert point of view. For additional information, visit: http://www.HealthyPlace.com