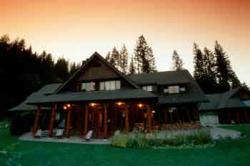 women lose between four and six pounds per week while men lose between eight and ten pounds
British Columbia, Canada (PRWEB) March 27, 2012
The Winter 2012 issue of Spa Magazine announced their 12 Great Weight Loss Spas a topic covering classic weight loss camps to the medically-supervised health spas. Mountain Trek fitness and weight loss retreat was singled out and featured as the test case for boot camp spas that challenge participants with regimented high intensity workouts.
Billed as a boutique style boot camp, Mountain Trek offers daily hiking for four to six hours in mountain alpine as the core fitness component. Their program complements hiking with high intensity cardio workouts, daily yoga, massage and cutting edge lectures on nutrition, detox, stress and fitness. Spa cuisine is divided into three meals a day and two snacks to round out the basis of this weight loss retreat.
Mountain Trek guarantees results stating that women lose between four and six pounds per week while men lose between eight and ten pounds. This is accomplished by employing formulas that re-claim muscle and bone by increasing the human growth hormone(HGH), potent strength training and sound cardio programs that burn stored fat. Cutting edge nutrition principles are used to manage blood sugars and insulin levels. The program also uses and teaches techniques to lower cortisol, a hormone associated with stress and aging, and raise DHEA for better stress management.
Exercise and nutritional tips reinforce regimens and practices that participants can take home with them to continue on the road to improved health and weight loss. The basis of Mountain Trek philosophies follow metabolic phases, Anabolic and Catabolic, along with hormone production for healthy and effective weight loss, while focusing on improved fitness and over all wellness. Core weight loss, nutrition and fitness theories are based on vetted scientific research and taught by dietitians, fitness instructors and life coaches.
Mountain Trek's flagship lodge is situated near the Rocky Mountains of British Columbia overlooking a glacier fed lake. A natural hot springs next door provides an added feature. Daily treks through the mountain alpine differentiates Mountain Trek from other fitness vacations and weight loss retreats. Maximizing on their proximity to nature, trips into old growth forests, along glacier fed rivers and encounters with flora and fauna provide for a unique experience and add an element of adventure.
Mountain Trek hosts their program twice a year in Baja Mexico at Rancho La Puerta, one of the oldest and most renowned destination spas in the world. Concerns for personal safety have seen trends with fewer US travellers crossing the borders to Mexico in exchange for trips to Hawaii. Despite this, Rancho La Puerta continues to be a sell out for the Mountain Trek program, a testament to the quality and care provided.
The British Columbia location offers one, two and three week long weight loss programs. Groups are small, never exceeding 16 people, allowing for individualized care that caters to specific client needs. The daily hikes are broken into three fitness levels ensuring no guest ever has to perform beyond a level in which they feel comfortable.
Mountain Trek offers annual adventure treks around the world to different locations each year. This year they will trek El Camino de Santiago in Spain during March and April.